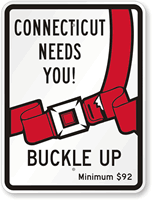 "In order to save lives, the Buckle Up signs have to have optimum visibility," said Rena Sapon-White, MyParkingSign.com Associate. "Our signs are printed with ultra-bright 3m ink and are guaranteed to last at least 10 years."
Brooklyn, NY (PRWEB) May 18, 2012
MyParkingSign.com is launching new state-by-state Buckle Up Signs to maximize road safety systems. The signs are tailored specifically for each state. One new feature on many of the new signs includes fines that apply to individual states based on extensive research.
Buckling a seatbelt is the most important step a driver or passenger can take when operating a vehicle. Safety organization SafeRoads.org stated on its website that in 2008, 55% of passenger vehicle occupants killed in traffic crashes were not wearing seat belts. The site also maintains that seat belts reduce the risk of fatal injury to front-seat occupants by 45% and the risk of moderate-to-critical injuries by 50%. It's amazing how a step that's easy as buckling a seatbelt signifies the difference between life and death.
The state-specific Buckle Up Signs are personalized to list the fines of different individual states. For example, Connecticut's sign states, "Connecticut Needs You! Buckle Up, Minimum $92" and includes a seatbelt graphic. Additionally, MyParkingSign has a state-by-state penalties chart for the violation fines of speed limits. The retailer extols how signs are effective visual reinforcements, and can also be used as communication tools for campaigns—such as 'click it or ticket.'
The selection offers an impressive variety of 'Buckle Up Signs.' The messages range from "Buckle Up: It's the Law" or "Buckle Up For Those You Love." Most of the signs are reflective, ideal for spotting at night. As MyParkingSign knows, reflective parking signs are required by DOT MUTCD standards for any publically accessible lot. "In order to save lives, the Buckle Up signs have to have optimum visibility," said Rena Sapon-White, MyParkingSign.com Associate. "Our signs are printed with ultra-bright 3m ink and are guaranteed to last at least 10 years."
MyParkingSign specializes in using top-quality materials for inexpensive prices. The choices are hefty plastic, durable aluminum, or tough laminated vinyl for sign composition. Free PDFs are available to download as a solution to carrying signs. In case MyParkingSign does not have the appropriate sign, customizable templates are available for personalized messages. Simply enter the company's name and choose a font, upload personal art or have a professional tweak it for free, and take advantage of free printing options.
For more information, visit http://www.myparkingsign.com/MPS/Buckle_Up_Signs.aspx.
About MyParkingSign.com
MyParkingSign is the largest online distributor of parking and traffic signs. Find over 3,000 different parking signs in stock as well as labels and accessories. Customers can create signs using convenient customization wizards.
About SmartSign
SmartSign is one of America's fastest growing e-commerce companies and parent of http://www.MySafetySign.com, http://www.MyParkingSign.com, as well as over 50 other sites.
Traditionally, signs with the right message have been hard-to-find, hard-to-design and hard-to-order. By positioning "Signs as Solutions", SmartSign has taken an entirely different approach. Through highly targeted, yet content-rich and authoritative sites, the company provides specific solutions to specific problems – such as keeping a parking lot safe. Couple this with fast and free shipping, 3M warrantied signs that outlast fast-fading ink jet signs from competitors, the web's largest range of designs and a best price guarantee, it is easy to see why SmartSign has grown so quickly.
Visit http://www.smartsign.com for more information.