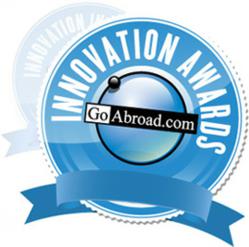 Congratulations to the 2012 GoAbroad Innovation Awards Finalists for showcasing groundbreaking strategies and a commitment to the field of international education!
Fort Collins, CO (PRWEB) May 18, 2012
The GoAbroad Team recently announced the finalists of the 2012 GoAbroad Innovation Award categories, and would like to again recognize these organizations and institutions by sharing more about the campaigns and efforts the finalists put forth, and are now being recognized for.
These top nominees were selected from the hundreds of diverse nominees which GoAbroad received, and the Team was thrilled to receive so many amazing nominations this year.
The People's Choice and Innovative Student Video Awards are currently being voted on in an online poll to determine the winner, and individuals are encouraged to take part in voting until 11:59PM CDT on May 30, 2012, in Houston, Texas.
The winners of each of the Innovation Award categories will be announced at GoAbroad's invitation-only reception at the annual NAFSA conference, on May 31, 2012.
To read more about what each finalist has been nominated for, please click on the link below.
Read more about each of the 2012 Finalists!
GoAbroad.com has been the web's premier resource for meaningful international experiences and alternative travel opportunities for more than a decade. The site boasts the largest and most comprehensive travel directories available online, while providing the most up-to-date and accurate information on programs available worldwide. GoAbroad.com's GoMedia services also offer a distinct range of internet marketing solutions for international education, including website design and comprehensive social media management.