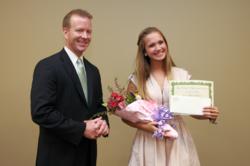 Fredericksburg, VA (PRWEB) May 19, 2012
Three women from the Fredericksburg region were honored yesterday as Mary Washington Healthcare's 2012 Spirit of Women Award Winners. As a Spirit Hospital, MWHC participates in an annual awards program to honor the unsung heroes of this community. Winners are chosen based on the contribution they have made to the issues the community faces in the areas of work, family and health; and on the impact they have had in their community and on the lives of others.
The 2012 Spirit of Women Awardees are:
Kristen Roth, Senior, Riverbend High School – Young Person Role Model
Andrea McConnell, Founder, Fairy Godmother Project – Community Hero
Gail Perkins, RN, MWH Forensic Nurse Program- Healthcare Hero
These three women were selected from over 20 nomination submissions from extraordinary women in all walks of life. The winners were announced at an awards banquet and tea among their family and friends on May 16, 2012 at the John F. Fick, III Conference Center.
Our local winners will also be candidates for the National Spirit of Women Awards. If selected as a National Winner, these women will represent Mary Washington Healthcare at the Spirit of Women National Awards Celebration Breakfast on Friday, July 13, 2012 in Boca Raton, Florida.
Visit http://www.spirit.mwhc.com to see photos and full nomination submissions of our award winners.