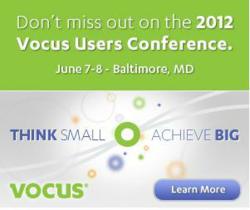 Serious success requires the integration of all marketing disciplines, figuring out where social media fits into the bigger picture, and measuring the results
Beltsville, MD (PRWEB) May 18, 2012
Vocus, Inc. (NASDAQ: VOCS), a leading provider of cloud marketing software, today announced thought leaders, bloggers and authors Gini Dietrich and Geoff Livingston have joined the lineup of speakers at the 2012 Vocus Users Conference. Their session titled, "Marketing in the Round: How to Develop an Integrated Marketing Campaign in the Digital Era," is based on their newly launched book by the same title.
"For the past several years, both Geoff and I have been working pretty hard with clients to break down organizational silos," said Dietrich. "Serious success requires the integration of all marketing disciplines, figuring out where social media fits into the bigger picture, and measuring the results."
Gini Dietrich is the CEO of Arment Dietrich, a Chicago-based integrated marketing communication firm and has grown a reputation for savvy advice on her blog, Spin Sucks, which ranks #87 on the AdAge Power 150. Three-time book author, public speaker and marketing strategist, Geoff Livingston is vice president of strategic partnerships for Razoo, an online fundraising site with a social twist and aimed at philanthropy. An accomplished entrepreneur, Livingston started and sold social media boutique Livingston Communications in 2009.
Marketing in the Round was published and launched this month and is available for purchase online at Barnes and Noble and Amazon.com. Both Dietrich and Livingston will also conduct a book signing – with free copies of the book – on location for conference attendees.
They join an amazing roster of speakers already on the agenda including HARO-founder and Vocus Small Business Evangelist, Peter Shankman, Ragan Communications CEO and Publisher, Mark Ragan, and TopRank Online Marketing CEO Lee Odden, who is also the author of a newly published book titled Optimize. A complete list of speakers, panels and sessions is available online.
The Vocus Users Conference is a two-day event, being held in Baltimore's famous Inner Harbor June 7 through June 8, 2012. This year's conference is themed, "Think Small – Achieve Big," which reflects the idea that the small things we do in marketing every day add up to big success.
For complete conference information on speakers, panels, training sessions and registration information visit online at: http://www.vocus.com/uc2012/.
About Vocus Vocus is a leading provider of cloud marketing software that helps businesses reach and influence buyers across social networks, online and through media. Vocus provides an integrated suite that combines social marketing, search marketing, email marketing and publicity into a comprehensive solution to help businesses attract, engage and retain customers. Vocus software is used by more than 120,000 organizations worldwide and is available in seven languages. Vocus is based in Beltsville, MD with offices in North America, Europe and Asia. For further information, please visit http://www.vocus.com or call (800) 345-5572.
# # #
Forward-Looking Statement This release contains "forward-looking" statements that are made pursuant to the Safe Harbor provision of the Private Securities Litigation Reform Act of 1995. These statements are predictive in nature, that depend upon or refer to future events or conditions or that include words such as "may," "will," "expects," "projects," "anticipates," "estimates," "believes," "intends," "plans," "should," "seeks," and similar expressions. This press release contains forward-looking statements relating to, among other things, Vocus' expectations and assumptions concerning future financial performance. Forward-looking statements involve known and unknown risks and uncertainties that may cause actual future results to differ materially from those projected or contemplated in the forward-looking statements. Forward-looking statements may be significantly impacted by certain risks and uncertainties described in Vocus' filings with the Securities and Exchange Commission.
The risks and uncertainties referred to above include, but are not limited to, risks associated with possible fluctuations in our operating results and rate of growth, our history of operating losses, risks associated with acquisitions, including our ability to successfully integrate acquired businesses, risks associated with our foreign operations, interruptions or delays in our service or our web hosting, our business model, breach of our security measures, the emerging market in which we operate, our relatively limited operating history, our ability to hire, retain, and motivate our employees and manage our growth, competition, our ability to continue to release and gain customer acceptance of new and improved versions of our service, successful customer deployment and utilization of our services, fluctuations in the number of shares outstanding, foreign currency exchange rates and interest rates.