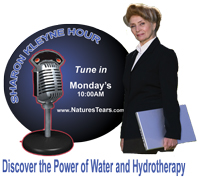 Grants Pass, OR (PRWEB) May 31, 2012
Brian Molone, owner of Full Spectrum Life natural food imports, talks with Sharon Kleyne, founder of Bio Logic Aqua Research about the growing popularity of Himalayan salt.
There is a lot more to salt than just sodium and chloride. Salt can contain additives and preservatives, the taste of salt and the natural mineral content can vary, and the uses and benefits vary. The most natural and arguably tastiest salt, according to many consumers, with benefits from increased nutrition to air purification to skin detoxification, is pink Himalayan salt.
Sharon Kleyne had interviewed several previous guests who discusses the benefits – and some hazards – to eating and bathing in salt, especially with respect to dehydration and elimination of toxins.
Brian Malone, like Sharon Kleyne, agreed on the importance of proactive personal choice in determining what foods and nutritional supplements to eat. "If you don't make a choice," he states, "someone else will do it for you."
According to Malone, Himalayan Salt is mined in Pakistan from an ancient sea bed. To date, 84 minerals have been identified in the pink rock salt, compared to 64 in sea salt and far fewer in common table salt (sodium chloride). Kosher salt is similar to table salt but with a coarser grind (Kosher Salt, 2012)
Sharon Kleyne noted that too much sodium in one's diet can cause heart problems and that eating too much salt can be dehydrating. Malone observed that some salt is required in the diet and that if you are going to use salt, it should be the most nutritious salt. Also, salt baths are excellent for drawing out skin and body toxins and baths allow the body to absorb the salt's nutrients through the skin. Sea salt, according to Malone can "pick up pollution" whereas the ancient Himalayan salt is absolutely pure. According to the Huffington Post (Costello, 2012), table condiments, including salt, should never contain chemical additives or undergo heating or freezing during manufacture.
There has been some controversy regarding whether Himalayan Salt is actually mined in the Himalaya Mountains (Mothering, 2010). Technically, it is not. Salt mines usually occur in low lying areas or basins, although there can be some mountainous overlay. The primary geological basin in Pakistan is the Indus River drainage and the primary surrounding mountains are the Hindu Kush and Karakoram, not the Himalayas proper (the true Himalayas form the border between India and China). However, the Hindu Kush are often confused with the Himalayas are considered part of what is called the "Himalayan System." The world's second highest peak, K-2, is in the Karakoram in Pakistan.
The source of Pink Himalayan salt (at Khewra, in Punjab Province in east-central Pakistan), is the world's second largest and Pakistan's oldest salt mine. The largest salt mine is at Carricfergus in Northern Ireland. The Khewra mine is a major tourist attraction offering a train ride, salt pools and a mosque made entirely of salt (Leford, 1969).
Malone sells pink Himalayan salt as table salt, rock salt, bath salt and as attractive lamps and room decorations. There are also aroma therapy devices utilizing the salt. According to Malone, when combined with a light bulb in a lamp, Himalayan salt attracts moisture and can purify the air.
According to the Huffington Post (Burnes, 2012), Himalayan salt goes well with vinaigrette and tomatoes but not with eggs.
The Sharon Kleyne Hour Power of Water is broadcast live on Mondays, 10 a.m., PST/PDT. The syndicated talk show is heard on Voice America/World Talk Radio, Green Talk Network and Apple iTunes. Go to http://www.SharonKleyneHour.com for written summaries and on-demand replays.
Brian Malone's website: http://www.fullspectrumlife.com.
Sources:
Burnes, D, With a Grain of Salt, Huffington Post, May 5, 2012
Costello, J, "Cool Food," Huffington Post, May 15, 2012
"Is Himalayan Salt a Scam?", http://www.Mothering.com, 1/20/2010
"Kosher Salt" (Poll), Huffington Post, May 3, 2012
Leford, SJ, Handbook of World Salt Resources, Springer, 1969.
© 2012 Bio-Logic Aqua Research