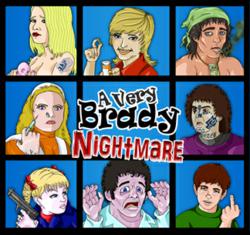 Los Angeles, California (PRWEB) May 21, 2012
Here's the story of a lovely lady, who was bringing up three very lovely girls, all of them had hair of gold....
blah blah blah...you know the rest.
Here's another story...
A Very Brady Nightmare (bradymovie.com)
A stressed out man who longs for the idealistic days of his youth finds himself with the Brady Bunch - only their not the perfect family that he remembers them as. They are the Brady Bunch from hell!
Even Cousin Oliver would flee this family...
Get ready to be exasperated, thrilled, shocked - but mostly, entertained.
A Very Brady Nightmare
Howard Brody, unemployed and stressed out, obsessively longs for his idealistic childhood, when mom stayed home and cooked, the family spent Sundays in the park and life was simpler. Howard can't relate to his modern video-game loving, disrespectful, rock and roll kids either. Near the breaking point with his life, Howard finds himself back in the 1970's at the Brady Bunch dinner table. Only, these Brady kids aren't the lovable goofy kids he remembers. They are, instead, the kids from hell. What lessons will Howard learn from the experience? Can his life ever be the same again?
Writer/director Todd Colby Pliss seeks donations to help make this unique, fun project (approximately 30 minutes) a reality. For each donation a person makes towards a goal of $16,250, each film-loving donater will receive an exclusive gift. Once Back Alley Productions reaches its goal, no more donations will be accepted.
Why donate to A Very Brady Nightmare?

Original, compelling fun story.
Award-winning screenwriter/director.
Everyone loves a good parody.
Cameo appearance by an original cast member.
Hey, wouldn't it be exciting to see your name in movie's credits?
For more information, to view promotional trailer and to view donation gifts, please visit http://www.bradymovie.com.
About writer/director Todd Colby Pliss
Since relocating to Los Angeles from his native Long Island, New York, Todd has kept busy. Todd spent three years as writer/host of the popular comedy television show, Dino & Rocco's Back Alley. Todd has written and directed the award-winning short films, Execution at County Jail and Einstein's Brain. His screenplay for the feature film, "The Art of Trash", has been produced and has had a successful DVD release. In March 2012, Todd's novel, "The Only Living Man With A Hole in His Head", has been published by SB Addison Books.
Watch Todd's award-winning film, "Execution at County Jail", on YouTube (20 minutes) at:
http://www.youtube.com/watch?v=W-7Q7c4Cgpg
Contact:
Todd Pliss
(818) 880-4292
Email: saxon17(at)earthlink(dot)net