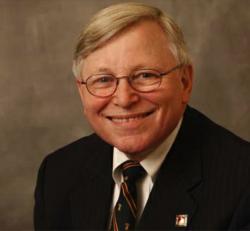 I am humbled to be included among such an impressive group. Because it is an award given by my peers, it is truly a special honor.
Baltimore, Maryland (PRWEB) May 19, 2012
Professor Byron L. Warnken is the 25th winner of the highest award in Maryland's criminal law community. His name now stands among the most distinguished criminal lawyers, judges, and scholars in the state's history.
The Robert C. Heeney award is sponsored by the Criminal Law and Practice Section of the Maryland State Bar Association. It is given out annually in May. The recipients are attorneys "exemplifying the highest professional standards and achievement in the field of criminal law during their distinguished careers." In many ways, it is the "lifetime achievement award" for criminal practitioners.
Professor Byron L. Warnken has been a professor at the University of Baltimore School of Law since 1977. He also has a private practice of law, Warnken, LLC. The practice is comprised of Maryland criminal lawyers. One particular focus of Warnken, LLC is Maryland Appeals. Warnken has handled more than 200 appeals, including cases in the Supreme Court of the United States. Warnken, LLC was started by Warnken's wife, Bonnie L. Warnken, who is now of-counsel to the firm.
Warnken has previously won the University of Baltimore Alumnus of the Year award, the University of Baltimore Professor of the Year award, and the Daily Record's Leadership in Law Top Winner award.
Warnken is often cited as a legal expert in the media. Within the last year, Warnken has appeared in such media outlets as USA Today, Fox News, ABC2News, CBS, WBAL, the Baltimore Sun, the Daily Record, Huffington Post, the Associated Press, and the Afro American.
Previous winners of the Heeney award include appellate judges Mary Ellen Barbera, Joseph Murphy, and Irma Raker. All are either current or former members of Maryland's highest court. Other winners include Chairman of the House Judiciary Committee Joseph Vallario and former Maryland Attorney General J. Joseph Curran.
Warnken said, "I am humbled to be included among such an impressive group. Because it is an award given by my peers, it is truly a special honor."