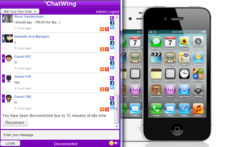 New York, NY (PRWEB) May 17, 2012
Many professionals consider this year as the 'Iphone Generation.' This is because of the fact that a lot of people all over the world are now having Iphone gadgets. Iphone is a reliable mobile device, complete with hundreds and thousands of applications to choose from. Avid Iphone users are now gathering in a global and free web chat known as Chatwing. This versatile chat tool grants an efficient avenue of communication for everyone.
Iphone users have gathered in Chatwing's website chat application because of its important features. One of these is Chatwing's Facebook integration. Through this, Iphone users can now log in with their Facebook accounts. This allows them to connect with other Iphone users and send out Facebook invitations in just simple clicks. Also, Chatwing's development team has noted that Iphone users tend to talk about apps, games, and trendy innovations.
Another notable feature is Chatwing's easy installation mechanism. Since Chatwing is a chat widget, it can be installed to blogs and websites that allow HTML coding. Many Iphone users are also bloggers, so this feature has helped them a lot. In the latest version of Chatwing, people can now install the widget in under few seconds and it also offers a high rate of customization. This is unlike other chatrooms that have preset styles and complicated installation instructions. "People like simplicity. They don't have the time to tinker with many things, especially commands. This is why we built Chatwing in a very simple platform. It is meant to be quick, straightforward and reliable," Says Ivan Diamond, one of Chatwing's developers.
Because of Chatwing's rising popularity, it is already gaining solid ground in the blogosphere. Some bloggers have even noted that Chatwing raised the visibility of their blogs by more than eighty percent. This simply proves that Chatwing is a user-friendly shout box that can be an immediate professional solution for everyone, especially Iphone users.
About Chatwing.com
Chatwing.com has developed chat live software for websites and blogs. It caters to different online communities due to its high rate of connectivity. Everyone can create a customizable live website chat feature in 1 minute or less. Users have the ability to customize the size, color, and fonts of the chat product. The ability to chat via social media accounts such as Facebook and Twitter enable Chatwing to offer a personal and unique real-time experience to all sites. Chatwing is 100% free and very easy to use.