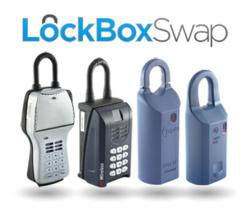 (PRWEB) May 24, 2012
As North America enters the tail end of spring and sees summer 2012 on the horizon, real estate agents are looking forward to the warmer days and the notorious increase in home sales. Fortunately for these agents expecting a lucrative summer, they can pick up some extra working capital if they sell realtor lock boxes to LockBoxSwap.
According to CNN, a federal $26 billion mortgage settlement with America's five largest mortgage lenders will lead to a "flood of foreclosures" on the market in 2012. With these new foreclosure listings available for real estate agents and associations across the country, the need for realtor lockboxes will increase in the coming months.
"Over the first quarter of 2012, we have realized repeat REALTOR® customers who both buy and sell real estate lock boxes on our easy-to-use platform," says C.E.O, Blake J. Nolan. "On more than one occasion, we have had individual real estate professionals sell us one individual lockbox, and then return a week later to sell us ten more lockboxes. The use of our services and the multiple repeat happy customers has been absolutely incredible."
As mortgage giants like Fannie Mae implement policies requiring electronic real estate lock boxes on all REO listings, the service provided by LockBoxSwap allows real estate professionals to buy and sell lock boxes at one simple, cost-effective, and hassle-free online location.
"With a number of real estate associations picking up REO listings and switching from Supra® to SentriLock® (or vice versa), LockBoxSwap wants to reach out to these associations as a potential buyer of their unused realtor lockboxes," says Nolan. "Whether your association has 50 or 5,000 lockboxes sitting unused, we want to be the source for you to unload your lockboxes in one simple, guaranteed transaction."
To see what real estate professionals across North America have been calling "So cool!" and "Truly a company built for REALTORS® by REALTORS!" check out the great deals on Supra® and SentriLock® lock boxes at LockBoxSwap. With a real estate market that is only expected to show signs of improvement, REALTORS® across the country now have a place to buy and sell lockboxes easier than ever before!
With competitive prices, our free-shipping policy, and a REALTOR®-managed team who understands your business, LockBoxSwap aims to be the one-stop shop for any real estate professional who needs to buy or sell real estate lock boxes. No more hassle. No more haggling. No more leaving your office. Just a guaranteed transaction that gets you a ready-to-use lockbox or cash in your pocket fast.
To lock up your listing for less, go to http://www.LockBoxSwap.com. For bulk transactions (20+ lockboxes), call Logistics Manager, Michael Fischer, at (888) 835-2540.