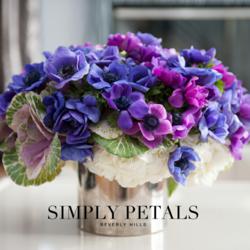 Beverly Hills, CA (PRWEB) May 18, 2012
SimplyPetals.com, a new online subscription service for hand-delivered, fresh flowers announces its launch today in Los Angeles, now making it easier for customers to regularly send floral arrangements at a variety of price points.
SimplyPetals.com is a floral service for consumers in Los Angeles and offers subscribers the opportunity to receive exclusive designs from Kevin Lee on a weekly or monthly basis. The site follows a social commerce model, with three different types of subscriptions and one-of-a-kind floral arrangements and gifts. Users can select a price point and frequency of delivery as well as whether it is for their home or office.
In stealth mode for the past few months, SimplyPetals.com has been solidifying exclusive partnerships with a who's who of designers, celebrities and trendsetters to co-design exclusive floral arrangements. The company plans to expand its services throughout California and select cities nationwide.
"Fresh flowers are full of life and I am excited to bring my signature designs from weddings and exclusive celebrity events to customer's homes and businesses at fabulous prices," said Kevin Lee, Chief Designer of SimplyPetals.com and florist to the stars.
Visitors to SimplyPetals.com can also order carefully crafted custom designer floral arrangements by Lee for any occasion as well as an array of gifts. The site features videos, tips and contests moderated by leading experts and designers.
About SimplyPetals.com:
SimplyPetals.com is the premier floral subscription service for Los Angeles consumers. The site provides a platform for subscribers to purchase weekly or monthly floral arrangements for their homes, offices or as gifts, as designed by renowned florist Kevin Lee. Subscribers receive exclusive access to weekly specials, daily deals and limited edition floral designs. For more information, please visit http://www.simplypetals.com.
About Kevin Lee:
Kevin Lee is a renowned celebrity florist known for his distinct designs. His cutting edge floral arrangements have been seen at events like the Oscar's, Grammy's and Emmy's. In addition, Kevin Lee has been noted on many television stations such as NBC, CBS, CNN, ABC, E! Entertainment, WE Network and Style Network. He has also been noted in numerous publications including People Magazine, Architectural Digest and In-Style Magazine along with many others.
For more information, high resolution images, or to speak with Kevin Lee please contact: Kelley Coughlan, Melrose PR, Kelley(at)MelrosePR(dot)com