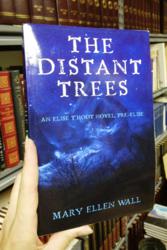 The novel combines the ship-of-fools allegory with the David and Goliath fable…a ground-breaking novel… - Kirkus Indie.
(PRWEB) May 30, 2012
The Distant Trees, now available in trade paper and on Kindle, tells how a brilliant but illegal refugee who risks her assumed identity to earn tuition instead earns a death sentence. She comes up hard against Earth's planetary protection policy, a policy brutally enforced.
Indie author Mary Ellen Wall says, "The science mission to Lyra 9976 is a special side trip, and demystifying that barren planet with indications of chlorophyll lets the young woman they call Marta interact with the exiles especially selected to run the necessary assessments. It's this unusual side trip that irritates the officers – they like the easy circuit to drop off exiles and supplies to each of the colony planets – and gives the exiles and Marta a chance to think about what it means to be a civilized human."
Having the exiled scientists who are destined for the desert colony of Tenembras do the research on the planet is only one of several threads running through this story. There is the tumultuous political situation in the new American empire that throws the former Free Speech activist Naomi, the elder statesman of Canadian agronomy Alain, the socially conscious Thao and the former Paraguayan "Protector of the Pantanal" Barto who needs to salvage something good in the universe all together with Marta. Add the virtuoso energy systems engineer Cedric who fights internal demons, cruel ones with his father's face and every chapter is a page-turner.
A crash landing years before sets the central scene, a tragedy the tyrants need to keep secret but one that Marta has a personal, heart-hurting connection to. The surviving crew of the doomed pioneer ship Van Damme planted trees on this distant planet, good Earth trees, using the few oxygen cartridges they could salvage. The so-called Patriot officers might burn those trees to dust; they cannot blunt the force of the Van Damme's legacy, not after Marta and the others find the survivors did not plant all the trees by themselves.
"I wanted real science back in science fiction. The desperate characters drive the very human story and since they specialize in meteorology, biology, psychology and nuclear power, that's what they talk about. This is not written on the level of a fourth grader, it doesn't have laser wars, vampires or a zombie plague." Says the author, "I wanted to write a compelling story about the world a hundred years from now, a story that shows we made great progress and screwed up badly too. Science fiction ought to do that, it ought to make you think as well as entertain. I discuss this and lots of other issues related to the book on my blog at maryellenwall.wordpress.com."
The Distant Trees will have readers reaching for the next book and then the next.