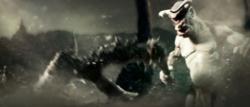 we really pushed to deliver a fresh version of Sinbad the Sailor, in the traditional style of VFX film making
Hollywood, CA (PRWEB) May 23, 2012
Giant Flick Films LLC in association with Steven Paul's Crystal Edge LLC, an affiliate of Crystal Sky LLC proudly announces 'Sinbad The Fifth Voyage' during this year's Cannes International Film Festival.
The exciting $22M budgeted live action film is based on the Middle Eastern fairy tale adventures of Sinbad the sailor and is narrated by Sir Patrick Stewart(Star Trek, Dune, X-Men). 'Sinbad The Fifth Voyage', which features creatures such as the Cyclops, the Goliath Crab monster, skeletons in the dead tree forest, and the Minozaur creature to name a few, has been produced using a unique combination of state of the art visual FX, old school stop-animation (Dynamation) technology of yester-year, and is loosely based on the original tales from the highly acclaimed 'Arabian Nights' book.
"Being a fan of the original tales from the Arabian Nights as well as the great creature movies of yester-year, we teamed up with artists from around the globe and really pushed to deliver a fresh version of Sinbad the Sailor. " - said up and coming Persian-American actor/director Shahin Sean Solimon. "We wanted to create something very unique for the fans of Sinbad and bring back the traditional style of Visual FX movie making. Although it's a painstaking process, as the animators have to go frame by frame, we are excited and looking forward to giving young and old audiences a chance to experience this movie!"
Primed for a 2012 release 'Sinbad The Fifth Voyage' is reminiscent of the classic Saturday afternoon matinee films originally brought to the silver screen in the 1950s using stop-motion animation technology.
Steven Paul's Crystal Edge, LLC is an affiliate of Crystal Sky (Ghost Rider, Tekken) also headed by Steven Paul, an Executive Producer, and is representing 'Sinbad The Fifth Voyage' as worldwide exclusive sales agent, and is showcasing Sinbad during Cannes International Film Festival.
About Giant Flick Films:
With core genres of Fantasy, Sci-fi, Horror and Action-Adventure Giant Flick Films LLC is a full-fledged production and distribution company based in Hollywood, CA and founded by a group of artist and partnerships that span the globe with a single goal of bringing great movies to the fans. Their goal is to broaden ingenuity and project imagination through good old fashion creativity for a new generation of cinema fans. Giant Flick is a green company. Recycling and conserving are an integral part of their operations in the corporate offices and on film sets.