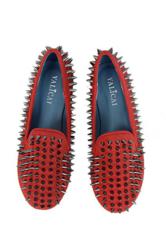 The launching of Oasap share channel meets the need of fashionistas to show their personal styles.--Oasap Founder
New York (PRWEB) May 19, 2012
Pin.oasap.com is a platform where users communicate through images and simple words. Users can upload outfit looks with a short description or comment. Uploads are easily connected with major media platforms such as Facebook, Twitter and Google+ by one click. Also, a link to personal blog is welcomed.
Pin.oasap.com (also known as u2p.in) looks like pinterest.com in style; however, there are two distinctive features. Firstly, users can only pin fashion items such as apparel, shoes, bag, etc at pin.oasap.com; while users can pin anything at pinterest.com; secondly, pin.oasap.com encourages users to show their orders, they can get more cash credits for shopping at Oasap.com by uploading a pin of featuring an Oasap item they ordered than a pin of other image, of course, they are also highly appreciated to pin their favorite product images among ten thousands of fashion products at Oasap.com.
Public praise is one of the most effective marketing methods in near future, thus, Oasap team attaches great importance to pin.oasap.com channel. A dependant apartment led by a VP is in charge of the channel. At the working conference of pin.oasap.com program, the founder of Oasap reiterated that Oasap is dedicated to becoming a fashion enterprise through internet that practices technology driving, the spirit of internet to be open, experience and share. The launching of Oasap share channel meets the need of fashionistas to show their personal styles.
Traditionally, it was the superstar that performed the essence of fashion, while nowadays, Oasap encourages common consumers to be the fashion star. The essence of internet is freedom and equality. As an uprising women's fashion online brand, Oasap believes that the girl next door trends to stand for fashion better than the super star on T stage. Shopping well reflects what fashion is in their mind. "Stay out of T stage, you know what fashion and beauty is in your deep mind." Mr. Sanji, Oasap Chief Brand Officer, said, "Insist on your idea and shows, then you are the most IN one."
Oasap Creative Director Nico Robin believes that pin.oasap.com will prolong the visit times on oasap.com and further enhance the loyalty of its fans. Based on this deduction, Oasap.com Ltd announced on its Facebook page that it will reward 1 million cash credits to users at pin.oasap.com/u2p.in.
Share and communication are the two main themes of internet. Pin.oasap.com is a platform to share fashion and personal styles. Users here are not for gaining credits, but to show their beautiful lives. Users at pin.oasap.com are existed consumers or potential consumers. They express their ideas directly to Oasap.com, for example, they can suggest how to improve the design of each single product, how to make a better match and etc. Oasap will be able to supply what are really needed by consumers. That is vane of fashion Oasap believed in. Oasap has been devoted to delivering fashion & love instead of just selling items since its beginning. The launch of oasap share channel not only meets the self-expression needs from fashionistas but also makes the online relationship closer, it leads the E-commerce to move forward to a new age with the bond of human relationship.
About Oasap.com: Oasap is a global online store dedicated to high-street fashion by offering various kinds of women's apparel, bags, shoes, jewellery, accessories, etc. Oasap was founded in late 2011, however, has already released ten thousands of SKU by far. We keep updating products at a high rate every day.