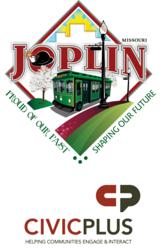 CivicPlus has helped us rebuild Joplin's digital home and brought new ideas to old ways of doing things.
Manhattan, Kan. (PRWEB) May 20, 2012
The City of Joplin's new website launched this weekend to cheers and congratulations after more than two dozen CivicPlus programmers, content specialists, designers and Joplin city officials worked tirelessly to rebuild the city's website in a compressed three-week timeframe.
Driven to launch the site before the May 22nd "Day of Unity" that will commemorate the one-year anniversary of the EF-5 tornado that ravaged the city, CivicPlus, the nation's leading developer of local government websites, is donating the website to aid the city's recovery. The company sponsored a Hackathon in Joplin the last weekend in April to jump-start the process.
Nine teams of Midwest designers and programmers worked to develop innovative solutions for Joplin's new site in three areas: overall web design, functionality for emergency management and functionality for community engagement. CivicPlus developers and Joplin city officials incorporated the best ideas into the new site, which now serves as Joplin's digital town hall.
"Rebuilding Joplin is more than just bricks and mortar," explained Joplin Mayor Melodee Colbert-Kean. "CivicPlus has helped us rebuild Joplin's digital home and brought new ideas to old ways of doing things. Their gift to our city is another example of The Miracle of the Human Spirit that so many volunteers have shown over this past year."
CivicPlus is donating over a million dollars worth of services and support to the city, including its premium website package, best-practice training, 24/7 support and a waiver of annual maintenance and hosting fees, for as long as the city and CivicPlus remain in partnership.
"We did what we could to help a neighbor in need," said CivicPlus CEO Ward Morgan. "We didn't come to Joplin with hammers and nails. We came with laptops, headphones and a storehouse of knowledge about designing government websites. That's how we could best contribute to the rebuilding of Joplin."
CivicPlus built a number of features into the new site that will increase community engagement and enhance emergency management. Emergency Alerts and Alert Center features will provide an alert bar at the top of each website page to inform residents of active emergencies, as well as a permanent section on the homepage to notify citizens of information pertaining to an active alert.
Joplin residents also may sign up to receive non-emergency alerts and updates from the city via text or email, including project bid opportunities, job postings, calendar and news items.
Another feature, Citizen Request Tracker, facilitates two-way communication by giving residents a convenient way to alert the city of issues or concerns that may range from reporting a streetlight outage to a neighborhood issue. Once an account is created, this interactive feature offers residents easy access to the city official assigned to handle that particular topic.
In addition, a "Joplin's Voice" button gives residents an open forum for dialogue on topics that matter to them. Ideas and opinions can be voted up or down, and the city has a chance to enact ideas based on feedback.
Morgan explained that the website will continue to grow in terms of functionality and design. "Joplin's site will not be a static presence on the Internet," he said. "It will be a constantly expanding and growing platform that will continue to offer citizens more ways to connect with their government."
Joplin residents and visitors can take a tour of the city's new website at http://joplin.org.
About CivicPlus
Based in Manhattan, KS, CivicPlus has designed more than 1,100 local government websites serving 43 million citizens throughout North America. A recipient of the Center for Digital Government's Best Fit Integrator Award for delivering extraordinary digital solutions to public IT projects, CivicPlus transforms municipal websites into powerful two-way communication platforms that let citizens talk to and participate in local government. The digital community engagement scale is a free online evaluation tool developed by CivicPlus to help local government measure the effectiveness of their website. In 2012, CivicPlus will invest more than $2 million in products, research and development. The innovative CivicPlus Government Content Management System (GCMS™) now offers more than 60 applications including Community Voice, Citizen Request Tracker, MuniMobile, Facebook and economic development tools. Founded in 2001, CivicPlus was selected by Inc. Magazine as "One of the Fastest-Growing Privately Held Companies in the U.S." in 2011. For more information visit civicplus.com.