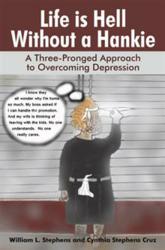 Lutz, FL (PRWEB) May 21, 2012
"Life is Hell Without a Hankie: A Three-Pronged Approach to Overcoming Depression" (published by CrossBooks) is a book with a lighthearted title but a profound message. For Dr. William L. Stephens and Cynthia Stephens Cruz, they came to depend on literal handkerchiefs, or hankies, to survive life-long struggles with colds and flu, allergic reactions and sinusitis symptoms. They both however came to depend on more figurative and multi-faceted "hankies" to survive depression, as a way to dry their tears, and wipe their noses and eyes in difficult times. They came to realize that since depression seems to affect all aspects of good health – the physical, the mind, and the soul, that a multi-faceted approach to recovery may require treatment for the whole body as well.
In "Life is Hell Without a Hankie," Stephens and Cruz recommend a comprehensive three-pronged approach to recovery from depression that involves treatment for the physical with medication and exercise, treatment for the mind with professional therapy, and treatment for the soul with a biblically based spiritual attitude.
"Life is Hell Without a Hankie" was written by two Christians who are also depression survivors, and want to share their experiences with you and encourage you to consider that the light at the end of your proverbial tunnel can be the joyful hope of recovery and happiness, rather than the destructive power of an oncoming train.
The book is not however limited to Christians, because the nature of the disease recognizes no spiritual boundaries. "The disease is not discriminating when it comes to who it affects, and who suffers from it," explains Stephens. For those readers who may come from other spiritual backgrounds the authors only ask them to at least be open minded as they read about the spiritual aspects of depression, and consider how it might be adapted to their own belief systems.
About the Authors
William L. Stephens, a Professor Emeritus of Accounting, and his co-author, Cindy Stephens Cruz, are living proof of the effectivenss of which they write. Their hope is to help anyone who shares similar characteristics and experiences by building upon the common bond that exists (whether knowingly or unknowingly) among the giant fraternity of depression sufferers. Stephens and his wife, Brenda, as well as Cindy, her husband Hector and new-born Hector William, all live in Florida.
CrossBooks, a division of LifeWay Christian Resources of the Southern Baptist Convention, is a Christian publishing imprint committed to bringing more Christian voices into the publishing industry. Established authors, first-time authors, and authors anywhere in between can meet their goals and fulfill their vision for their books by publishing with CrossBooks. CrossBooks' innovative style of publishing blends the best of traditional and self-publishing. While our authors contribute monetarily to cover the cost of publishing, we maintain a strict moral and quality standard that every manuscript must meet for us to publish. For more information on publishing your Christian book with CrossBooks, log on to crossbooks.com or call 1-866-879-0502.