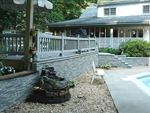 Five new colors create a wealth of design options
Deer Park, NY (PRWEB) May 30, 2012
Faux Panels' Nailon line of faux stone siding expands by adding five more colors, increasing the design options for DIYers and decorators. Dry Creek, Mojave, Mountain Ash, Prairie Cream and Rustic Rock offer shades sure to please even the pickiest consumer.
"We love giving our customers options. Expanding the color range for our popular Nailon line is an obvious choice," said Steve Barron, president of Faux Panels.
Nailon faux stone siding is very versatile and, depending on your local codes, can be used inside or out. The realistic stone look provides rugged beauty without the weight of stone, which can be prohibitive in some designs, or the expense of hiring a stone mason.
The natural colors of the five new shades are sure to please virtually any home owner. From the pale shades of prairie cream that are a true neutral without being boring to the earthy shades of rustic rock, the increased color options can fit nearly any décor. Mojave's slightly reddish undertones add warmth while Dry Creek is more golden. Mountain Ash is a soft gray that evokes a granite mountainside.
Used on a home's exterior, Nailon's new shades can create a lovely accent wall or cover the entire house. As a foundation cover, Nailon faux stone siding not only adds contrast to the rest of the exterior design, it also protects because it's highly durable, easily withstanding wear and tear without chipping like real stone would.
Thanks to its polypropylene construction, Nailon's stone veneer holds up beautifully even in bright sunlight, extreme cold, high moisture and more without warping or fading. Even better, termites and pests have no appetite for faux stone siding panels. Plus, it's extremely low maintenance, freeing up weekend time.
Nailon Faux Stone Wall siding offers a beautiful and hassle-free means to bring the appeal of stonework to your design projects, at a fraction of the cost of real stone. They are available in natural and attractive grey and earth tone finishes. The faux panels replicate the look and texture of real stone to an amazing degree.
"Our customers love the Nailon siding because it's so easy to install. Professional contractors adore it, too, because they know they'll be able to deliver consistent results to their clients, and the customers know the job will be done a lot faster and more economical than if they used real stone," said Barron.
Beauty, durability, economy and new color options – Nailon faux stone veneer is a terrific choice for anyone who wants to give their home a facelift.
FauxPanels.com is an industry leader due to wealth of installation guides for DIYers and the best selection of the realistic faux brick, stone and wood panels and columns on the market. Its products have been regularly featured on television shows such as "Celebrity Apprentice" and numerous appearances on "Extreme Makeover: Home Edition." FauxPanels.com is a subsidiary of Barron Designs Inc., a family-owned home improvement business operating since 1972. For more information, visit FauxPanels.com.
# # #