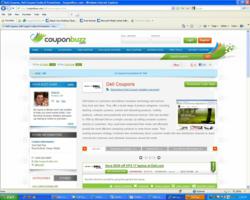 It isn't a replacement desktop, but it definitely gets the job done!
Houston, TX (PRWEB) May 19, 2012
The Inspiron 14z laptop is now 25% off with a Dell Coupon announced today by CouponBuzz.com and featured in their section devoted to Dell coupons and special offers. This slim laptop is a perfect mix of portability, price, and computing capability. Universally sought after by students, business professionals and recreational users alike, the Inspiron 14z packs a lot of wallop into a very pleasing price point.
"Often online shoppers who are searching for deals on laptops don't require a 'laptop Lexus,' quipped Justin Bowen, a spokesperson for CouponBuzz.com. "What they are looking for is a nice-looking computer that meets all of their needs and most of their desires, and can be taken on the road. The Inspiron 14z for which we are currently featuring a 25% off Dell coupon is perfect for this type of user. It isn't a replacement desktop, but it definitely gets the job done!"
The Inspiron 14z laptop features, as inferable by nomenclature, a 14 inch high definition LED display screen. It comes standard with Windows 7 Home Premium, a 2nd Generation i5 Intel® Core™, and a 2.4 GHz processor. 4 GB of Shared Single Channel DDR3 Memory is also standard, along with a 500 GB SATA hard drive. The Intel HD Graphics 3000 is a decent little graphics card that will meet the performance needs of the vast majority of users. An integrated 1.0 MP HD Webcam, Intel Wireless-N 1030 card and Bluetooth 3.0 ensure everybody stays well-connected.
Special non-hardware features of the Inspiron 14z include DataSafe 2.0, which offers online backup of the system for a year, and McAfee SecurityCenter for 36 months. An 8x CD/DVD dual layer burner is incorporated into the laptop, along with Roxio Starter software. It also includes a 6 cell Lithium Ion battery, which guarantees 5+ hours of standard use. However, it is the thin form factor of the Inspiron 14z that is one of its top selling points, at less than 1 inch thick. A sleek espresso black exterior makes it more understated that most Dell computers, and it weighs in at 4.6 pounds. To access the 25% off Dell coupon code, visit the CouponBuzz.com section for Dell Special offers here http://couponbuzz.com/dell-home-coupons.html.