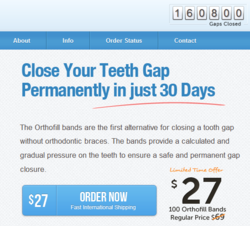 Cebu, CEB (PRWEB) May 18, 2012
Canada-based dental brand Orthofill has closed more than 16,000 teeth gaps and the numbers are regularly mounting as more individuals discover this safe and less invasive orthodontic remedy.
Orthofill is an alternative treatment to diastema – that space or gap between teeth. Large gaps can lead to crooked teeth which can then negatively cause discomfort on the jaw. Compared to cosmetic alternatives such as porcelain veneers, bonding, and other dental treatments, Orthofill bands are easier on the pocket and a less intrusive treatment to a minor dental problem.
The bands are made from patented premium grade elastic polymer. No latex. It's tasteless and barely noticeable. Orthofill is a safe and permanent gap closure treatment especially for those who don't want to wear orthodontic braces.
On a limited time offer, an Orthofill box is sold for $27 from its original $69 price. Each box contains 100 bands. The bands are FDA-approved and are developed by orthodontic professionals. If the product doesn't work for you, Orthofill offers a 110% money-back-guarantee and they are able to offer that because the product's refund rate is below 110%.
This alternative treatment is easy to use and within a 30-day time period, one can expect a safe and permanent gap closure. When used as directed, the bands will not cause any damage to your teeth and gums.
For more information on how Orthofill can treat diastema in less than two months, visit http://www.orthofill.com.
About
Orthofill is a wholly owned company by Clicking Labs. With dedication and perseverance they were able to bring together a diverse team of web professionals to provide internet businesses with creative web marketing strategies. Founded in Ottawa, Canada, the company has expanded operations to Cebu, Philippines in early 2011 to better serve its clients.