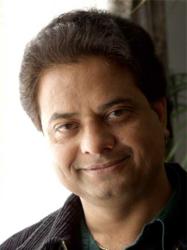 Scottsdale, AZ (PRWEB) May 18, 2012
Mahendra Kumar Trivedi, founder of Trivedi Master Wellness and Trivedi Products (divisions of Trivedi, LLC), was interviewed last week by Daniel Gutierrez for his "Awakening to Abundance" teleseminar series and the response was so overwhelming that Daniel is giving everyone one more opportunity to hear it on demand this weekend.
Mahendra Trivedi is recognized around the globe for his energy transmissions, known as the Trivedi Effect®. Tens of thousands of people have reported vastly improved overall health and well being including relief from chronic pain, debilitating diseases, emotional and psychological disorders and food and environmental sensitivities from receiving these energy transmissions.
During the interview, Mr. Trivedi will share the astounding results of some of the over 4,000 research studies conducted on the Trivedi Effect® at leading research institutes throughout the world. He will also discuss how to fully awaken your consciousness by strengthening your connection to Universal Intelligence.
When you register to hear this interview you will also be invited to attend the rest of the "Awakening to Abundance" series, where over 24 thought leaders share their secrets for living a life of abundance. Other speakers include:

Entrepreneur, researcher and one of the featured stars of "The Secret," John Assaraf who will conduct an exclusive video interview.
One of the world's leading authorities on human behavior, Dr. John Demartini
will discuss Mind Over Body: Understanding Hidden Agendas & Unconscious
Motives.
Best-selling "Letting Go" author Guy Finley will share how to Awaken to Being Fearless and Free.
Gary Douglas, Founder of Access Consciousness will provide Simple Tools for Easy Change and share How to Learn to Communicate With Your Body and Trust Your Awareness.
*Dr. Sue Morter will explore The Bioenergetics of Awakening to your Highest Life Purpose.
The public is invited to register by going to http://www.AwakeningToAbundance.com/MTrivedi
Mr. Trivedi's mission and that of the Trivedi Foundation® is to leverage the Trivedi Effect® to usher in Trivedi Science™, a new era that integrates scientific research with consciousness to vastly improve the human condition and benefit humanity on a global scale.
Dahryn Trivedi, a prodigy in the spiritual world is working to revolutionize the facial skincare industry through her highly anticipated skincare line, Dahryn®, which is expected to become available next month. Dahryn also plays an important role in transforming peoples lives by helping them attract a soul-mate and bringing harmony to their relationships. Click here watch her inspiring message for American women.