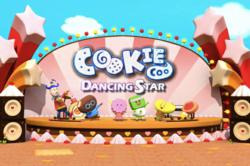 Seoul, South Korea (PRWEB) May 18, 2012
ThinkCube's CookieCoo Dancing Star is an educatational, entertaining app for youngsters that features sing-and-play along children's songs accompanied by adorable cartoon dancers. Originally priced at $0.99, CookieCoo Dancing Star includes one free song pack, but ThinkCube has launched a special event that offers the app and additional song packs for free.
Each of the CookieCoo Dancing Star song packs is themed, allowing parents and kids to choose the songs they like the most, or the ones that concentrate on certain educational topics. For example, the free pack usually included is the "Body" theme pack: Head, Shoulders, Knees, and Toes; Hokey Pokey; and This is the Way We Wash Our Face. Additional song packs are $0.99. But for a limited time, CookieCoo Dancing Star is offering its most popular song pack for no cost.
The "Animal" theme pack includes Mary Had a Little Lamb, Old MacDonald Had a Farm, and Baby Bumble Bee. Instead of the usual $0.99, the Animal themed song pack is now completely free! Just as with all of CookieCoo Dancing Stars songs, kids can choose their favorite instrument and a favorite CookieCoo Dancer to accompany their singing and gameplay. The three levels of difficulty (easy, medium, and hard) and the additional "Watch" mode make CookieCoo Dancing Star an upbeat hit for little ones of all ages.
CookieCoo Dancing Star is available for download now in the iTunes App Store for free, and comes with the "Body" theme song pack. Customers who download the Animal theme song pack during this special event will receive it for free.
Features:

Child-friendly interface
Watch mode for those who aren't ready to play along yet
Easy, Medium, and Hard difficulty levels
Friendly, positive feedback - no frustration
Children choose from three different "instruments" to play each time they start a song
Children can pick their favorite CookieCoo dancing star to dance and sing while they play, each time - five to choose from
Pricing and Availability:
CookieCoo Dancing Star iPhone and iPad version is available for download now in the iTunes App Store for free (USD) and compatible with devices running iOS 3.1 or later.
About the Developer:
Woongjin Think Big is striving to create an education culture based on the principle of "Good Education, Great People." Woongjin Think Big was established in 1980 as Woongjin Publications. Today, Woongjin Think Big is creating an ideal educational culture via the development of a wide range of educational publications for people of all ages, from infants to adults. It publishes study books, complete collections, single volumes, after-school learning materials, textbooks and online contents. Woongjin Think Big is also involved in the development of globalization centers such as the GEC and ICC.