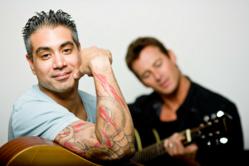 Dyce is unique among guitar teachers. He is able to inspire and to motivate you to the level of guitar proficiency that you want.
Weston, FL (PRWEB) May 18, 2012
In one study reported on in the medical journal Neuroscience Letters, musicians and non-musicians of the same age and sex were required to perform complex sequences of finger movements, while their brains were scanned using magnetic resource imaging (which detects the activity-levels of brain cells). The non-musicians could make the movements ok—but the musicians' brains expended less energy. In other words, the brains of musicians are more efficient at making skilled movements.
The positive effects on the brain are seen outside the laboratory, as well. According to one renowned brain doctor, "The musician is constantly adjusting decisions on tempo, tone, style, rhythm, phrasing, and feeling—training the brain to become incredibly good at organizing and conducting numerous activities at once. Dedicated practice of this orchestration can have a great payoff for lifelong attentional skills, intelligence, and an ability for self-knowledge and expression." Needless to say, these skills will help any student in high school and college, and afterwards, in the workforce.
And it's not just that music lessons help boost intelligence—they are actually better than other methods. One research team reported that "music training is far superior to computer instruction in dramatically enhancing children's abstract reasoning skills, the skills necessary for learning math and science." As we know, America is continually falling behind other countries in math and sciences—perhaps, in part, is because we have been neglecting our music studies, as well.
Dyce's Weston guitar lessons for high school students are available to sale directly to students, or can be purchased as a gift by their loved ones. Absolute beginners are encouraged: Dyce's impactful, easy-to-understand teaching style focuses on getting students to play great-sounding grooves from lesson #1.
This Weston guitar teacher provides lessons at his state-of the-art studio in Fort Lauderdale, convenient to Miami, Weston, Parkland and Fort Lauderdale. He also conducts Skype blues guitar lessons and guitar lessons for the absolute beginner, available to anyone across the globe.
Dyce Kimura is a top-flight musician, providing Weston guitar instruction. Furthermore, Dyce is hip to all of the latest music & technology trends, breaking artists, and contemporary gear. (Before Dyce began teaching full-time, he was an in-demand session player in Miami's competitive studio scene, recording with scores of hip-hop, rock, blues and Christian artists—and is a nationally-recognized blues guitar authority.)
For more information on giving the gift of Fort Lauderdale guitar lessons for your college student, contact Dyce at (786) 457-3687 today.