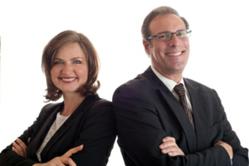 We will find you the RIGHT home, in the RIGHT location, at the RIGHT price, saving you time, energy, and money
La Jolla, CA (PRWEB) May 21, 2012
La Jolla, California has become known the world over as an enchanting seaside village with a European sophistication. Speckled with restaurants of various cuisines, small local businesses, its eclectic array of coastal and hillside homes, fancy cars, golf and tennis clubs, La Jolla has attracted so many visitors who now live and play here. The architectural styles of homes lends significantly to the unique character of La Jolla, creating a near art form for all to appreciate. La Jolla has become a popular area to own a spectacular vacation home or perhaps a planned area which to retire. To find out how to own a fantastic home in La Jolla, like so many other fortunate people, click the Home Configurator link below.
With great excitement Charles and Natasha announce the formation of their real estate team. They are both Broker Associates with Prudential California Realty, the # 1 real estate brokerage firm in Southern California. Charles and Natasha are confident that by combining their individual talents, skills, knowledge, and market expertise, they will enrich the lives of future clients. They have worked hard and diligently to gain the trust from past clients and to provide them with "platinum-level service" ... and they expect no less of themselves than to provide the same to all new clients.
Over the past years they have assisted many local and international clients to purchase magnificent homes in La Jolla. Their mantra is "We will find you the right home, in the right location, at the right price, saving you time, energy, money, and yet most of all, finding a home that will enable YOU to enjoy the lifestyle that you deserve".
So … here is a brilliant idea that has been successful for other clients who now own a coastal property in San Diego. Click on this link to go directly to the "Home Configurator" page of their website. Enter contact information, select home preferences, then click the "submit" button at the bottom. Notifications will be sent by email as La Jolla properties become available. Just imagine living in a fabulous new home here in La Jolla, California.
Click on this link to receive a Free Home Buyers Guide or a Free Home Sellers Guide.
Charles (CA DRE # 01875556) is also a non-practicing CPA, former CFO for a global manufacturing company, and former management consultant. Natasha (CA DRE # 01874907) is a former business owner in St. Petersburg / Moscow / Rostov Russia, and is a former teacher of mathematics and physics. They are Broker Associates for Prudential California Realty, 1299 Prospect St., La Jolla Ca. 92037