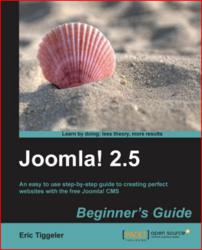 Birmingham, UK (PRWEB) May 19, 2012
Packt is pleased to announce the release of Joomla! 2.5 Beginner's Guide book, an update to the popular Joomla! 1.5 Beginner's Guide book for web designers to create a website within an hour. Written by Eric Tiggeler, this practical guide is designed to be placed alongside the computer as a mentor to design and manage content on a website with easy navigation by help of step-by-step tutorials and screenshots.
Joomla is one of the world' s most popular open source Content Management Systems. With millions of websites running on Joomla, the software is used by individuals, small & medium-sized businesses, and large organizations worldwide to easily create & build a variety of websites & web-enabled applications.
Joomla! 2.5 Beginner's Guide teaches beginners to create, manage and customize professional, feature-rich and extendable websites easily. This book will help the readers to get started quickly and to get beyond the basics and take full advantage of Joomla!'s powerful features of attractive home pages. It provides a quick overview of the site's contents and directs people to the content they are interested in, while engaging them to become active users and enabling them to register, add content, and leave comments.
The book thoroughly covers the concepts behind the software and creates a coherent picture of how the software works. It will allow users to make full use of its templates and must-have extensions to get the site to look perfect, tweaking the CSS and personalising the web site with own logo, fonts, and colors. Additional advantages like increasing the site's visibility on search engines by applying highly effective Search Engine Optimization (SEO) techniques and securing the site from hackers and potential threats are also covered with easy-to-follow techniques.
This book is apt for beginners to design websites and spark their imagination.The reader would know to build a complete custom content managed website, and be ready to build any kind of website without the knowledge of any web language like HTML or CSS. The book is out now and available from Packt in print and popular eBook formats. To read more about it and download a sample chapter, please visit the Packt web-page.