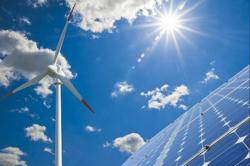 Available as both a wholesale and
retail facility the product suite delivers insurance programmes to the Solar, Wind and
Wave Sectors and is supported by a panel of Global Insurers and Lloyds underwriters
(PRWEB) May 18, 2012
New Renewable Energy Insurance Suite Launched by UK Broker
UK-based Marine & Specialist Insurance broker, IRCM, have launched a new product
range aimed at the Renewable Energy Market. Available as both a wholesale and
retail facility the product suite delivers insurance programmes to the Solar, Wind and
Wave Sectors and is supported by a panel of Global Insurers and Lloyds underwriters.
A comprehensive insurance package for the Biogas Sector is also available on a direct
only basis.
Mark Elcocks, IRCM's Specialist Risks Manager said "Expanding into the
Renewables Sector is a logical extension of IRCM's specialisms. It also forms part
of our strategy to increase the range of products available on a wholesale basis and
facilitate market access to brokers wishing to diversify their own portfolios".
Brokers working with IRCM will benefit from access to facilities that encompass:

Solar Panel Installation: A Combined Liabilities scheme that provides
Public and Products Liability limits up to £10,000,000 and includes efficacy
cover. It also offers an efficacy extension. Throughput cover for the panels
themselves that includes cover whilst being installed as well as cover for tools,
plant etc can also be provided.
Wind Turbines: A range of covers can be sourced that include manufacture,
installation and maintenance of wind turbines as well as insurance for
workboats and crew.
Wave Energy: Comprehensive insurance programmes for risks that include
wave power farms and tidal stream turbines.
IRCM have been at the forefront of innovation in the Marine & Specialist Sectors
for a number of years. Their 3-tiered approach of Insurance Management, Risk
Management and Claims Management is designed to deliver the benefits of a
comprehensive, tailored insurance programme at the best available premium.
Proactive risk and claims management support is also designed to ensure premium
cost efficiency in mid to long terms.
Further details of IRCM's "Renewables" Insurance product range can be found at:
Insurance for the Renewable Energy Sector.
IRCM is a KGJ Group company and is authorised and regulated by the Financial
Services Authority.