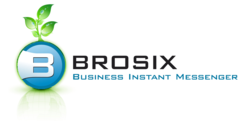 While our main goal is to provide companies of all sizes with a secure instant messaging program, we are not overlooking how we can help the environment.
(PRWEB) May 22, 2012
While an efficient work place is important to all managers, most companies are also concerned with the well being of the environment.
Going green is a trend that is sweeping the world. With many people living a green lifestyle at home, it only makes sense that this spills into the corporate environment.
Recently Brosix invested will and determination to switch from normal servers to new energy efficient servers most of which are Fujitsu EcoServers - http://www.server4you.com/root-server/ecoserver.php . During the past few months company was striving to become a green instant messenger and finally on May 21, 2012 Brosix succeeded to move most of its data and direct most of its on-line communication needs to pass through the new Fujitsu EcoServers.
In the United States, as well as many other parts of the world, internet usage is growing rapidly. With a total estimated electricity cost of $7.2 billion worldwide – for the use of servers and related equipment alone – it is easy to see that more environmentally friendly methods are necessary.
With such a high demand on resources, eco-friendly instant messaging is more important than ever.
"While our main goal is to provide companies of all sizes with a secure instant messaging program, we are not overlooking how we can help the environment," says Stefan Chekanov, CEO of Brosix. "At Brosix we realize that data center emissions and server power consumption can contribute to world-wide pollution. We don't have every answer, but we are committed to being environmentally responsible."
Through the use of EcoServers, Brosix is able to save energy – day in and day out. And with the use of AMD quad core CPUs, performance never suffers.
Every server used by Brosix requires 55 percent less energy than standard servers.
"Companies that want to use an instant messenger but are worried about the environment should be excited about our Fujitsu EcoServers," Chekanov continues. "We offer high quality, high powered servers and hardware that protect the environment – this is the best of both worlds."
One of the primary benefits of Brosix is the ability to create a private instant messaging network.
This major feature of Brosix allows managers to rest assured that only authorized users are part of the network. This is a simple method for confining employee communication, ensuring that every conversation is geared towards business purposes.
The number of enterprise instant messaging users is on the rise. As Brosix continues to work with more and more clients, the company is dedicated to providing an eco-friendly solution.
As an all-in-one corporate instant messenger with a focus on going green, Brosix can help users improve business communication while doing the right thing for the environment.
To learn more about the Brosix Business Instant Messenger, go to http://www.brosix.com/business or feel free to contact the Brosix development team.