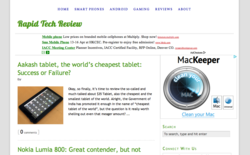 They're both very talented writers
Los Angeles, California (PRWEB) May 22, 2012
Tech blog Rapid Tech Review has welcomed two new staff writers to the site's New Technology section. This new acquisition comes as the site is undergoing major redesigns in the coming weeks.
The site welcomed Allison Paul and Roseanne Porter to its regular writing staff. Paul and Porter will be part of the New and Coming Technology section of the site's blog. Management is looking forward to a fruitful working relationship with the two writers.
Roseanne Porter had been a contributing writer to Rapid Tech Review for a little over a year since her hiring. She was particularly very instrumental in covering gadgets outside of the United States and Europe when her studies took her to Singapore for 3 months.
Allison Paul has also contributed a few articles to the site in the past, covering social media and developments in social networking.
Site manager Peter Tompkins said of the new writers, "We're very excited about having Allison and Roseanne in the team. They've done great work for us in the past and we jumped on the prospect of having them on staff. They're both very talented writers."
Both writers will be debuting along with the web site's new design, which should be announced in the coming weeks. They will both be writing articles, blog posts, and other special features on new and coming technology
About Rapid Tech Review
Rapid Tech Review is a tech and gadget blog that features news and reviews on emerging and new technology, gadgets and games. The site also features informed and detailed analyses of current and future technology. Rapid Tech Review puts a focus on lesser known brands and technology that may be left out of other tech and gadget blogs.