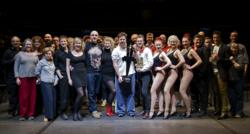 (PRWEB UK) 18 May 2012
The event, which was held at the iconic Dominion Theatre, home to top west end show 'We Will Rock You', was expertly hosted by Gaby Roslin and John Partridge with Toby Anstis and Kate Copstick reporting live from the red carpet and backstage. There were celebrity judges on hand to offer their critique in the expert form of Hollywood actress, Stefanie Powers; Radio legend Tony Blackburn and West End superstar Kerry Ellis, who also provided an impromptu performance of the Queen classic 'Somebody to Love' to a very appreciative audience during some small technical issues.
International recording artist and television personality Javine Hylton provided a fabulous interlude when she reprised her 2005 UK entry 'Touch My Fire'.
Whilst the cast of Sweeney Todd won the best overall performance and best creative awards, The award for Best Ident was won by by the London cast of Les Miserables.
All in all the show was another shining achievment for the entertainment industry charity which continues to pack a punch with top quality productions, showcasing the best the theatre industry has to offer whilst raising funds to really help Make A Difference!
Charity Director, Steven Inman said "West End Eurovision delivers on so many levels. It is a fun, high camp and glamorous way to spend an evening, but more than that it allows just some of the incredible talent, both on and off stage, that we have in the West End to showcase what they can do. At a time when everyone is concerned about the economy, the call on our hardship and support services has never been greater, and this is a fantastic way to raise funds so that we can make a difference in peoples lives, where it is really needed. Thank you to everyone who made this event possible"