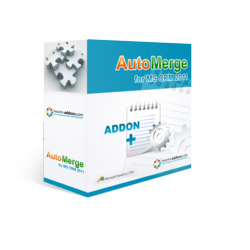 With AutoMerge, we provide enhanced possibilities to easily create and process documents using templates and workflows or dialogs. Our aim is to help our customers to perform more efficiently in daily business.
Graz, AT (PRWEB) May 23, 2012
MSCRM-ADDONS.COM, a company developing and distributing addons for Microsoft Dynamics CRM, officially releases AutoMerge. The product is a useful supplement to MS CRM. By providing easy handling and processing of documents using workflows or dialogs it prevents long and complex document creation.
"We created AutoMerge in order to provide our customers the possibility to easily generate and process documents using templates, created without programming knowledge. Our aim is to help simplify daily business processes and to make them more efficient. We do this by avoiding complex standard CRM document creation processes", said Christian Ternek, Product Manager of MSCRM-ADDONS.COM.
AutoMerge provides the possibility to create and process documents (e.g. quotes, etc.) based on templates which incorporate all CRM fields and resolve all CRM relationships. Furthermore, it allows an easy creation of tables and the insertion of documents or pictures out of the CRM. The addon's handling is simple and intuitive.
The document generation and processing can be executed either automatically via workflows (when a specific CRM-event occurs, e.g. when a new contact is created) or in the course of a one-click scenario via dialogs. Regarding document processing, AutoMerge gives you the possibility to generate a document, attach the document to an e-mail activity, send the document via e-mail, attach the document to a letter activity, save the document in the SharePoint folder which is associated to the starting record
AutoMerge can create documents with the following formats: doc, docx, pdf, html, jpg, bmp, png, xps, ...
AutoMerge is available for Microsoft Dynamics CRM 2011 On-Premise and Hosted (IFD). It can be purchased in our online shop or a trial version can be downloaded from our homepage.
About MSCRM-ADDONS.COM (http://www.mscrm-addons.com):
MSCRM-ADDONS.COM, a corporate sector of PTM EDV-Systeme GmbH, is a software company founded in 1998 and situated in Graz, Austria. The company is a Microsoft Gold Certified Partner. It provides a high standard of knowledge, skills and commitment. MSCRM-ADDONS.COM specialises in the development of diverse addons for Microsoft Dynamics CRM which could improve the benefit of using Microsoft Dynamics CRM. As a valuable addition to their products, the company provides technical support that distinguishes itself with quick and high qualitative answers and the willingness to always provide the best solution for the customers.
For more details about the current product portfolio/the current addons for Microsoft Dynamics CRM 2011, please follow the link to the MSCRM-ADDONS.COM product page or contact Christian Ternek, Product Manager of MSCRM-ADDONS.COM