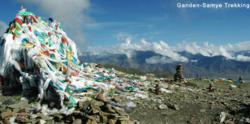 Lhasa, Tibet (PRWEB) May 19, 2012
Potala Travel, a Tibetan-run tour organization, announces a 12-day trek between two of Tibet's most important monasteries. Crossing over two 5000-meter mountain passes, this demanding trek is also the most popular route in Central Tibet.
Ganden monastery, located about 45km east of Lhasa, is a monastery of the Geluk order. It was founded in 1409 by Tsongkhapa on the Gokpori ridge of Mount Wangkur. After later additions, the monastery came to support more than 5,000 monks.
During the Cultural Revolution of the 1960s, the monastery was destroyed. In the 1990s, the buildings of the monastery were rebuilt and renovated, and 1,660 square meters of murals have been restored over the last four years.
The Samye monastery is the most popular destination for travelers in Central Tibet. Surrounded by barren mountains and dramatic sand dunes and approached via a river crossing, the beauty of the monastery and its location tempts many visitors to stay longer than they intended.
Samye was Tibet's first monastery and has a history that spans more than 1200 years. It was founded during the reign of King Trisong Detsen, sometime between 756 and 780. Shortly after founding the monastery, Tibet's first seven monks were ordained at Samye by the monastery's Indian abbot, Shantarakshita (Kende Shewa) and Indian and Chinese scholars were invited to assist in the translation of Buddhist texts into Tibetan.
Samye has been damaged and restored many times throughout its long history. The most recent assault on its antiquity was by the Chinese during the Cultural Revolution. Extensive renovation work has been going on since the mid-1980s and there are now 190 monks at the monastery.
The best time for the trek is from mid-May to mid-October. Summer can be wet but the mountains are at their greenest and wildflowers color the alpine meadows. Barring heavy snow, it's also possible for those with a lot of trekking experience and the right gear to do this trek in the colder months.
Potala Travel is a Tibetan-run travel service based in the heart of Lhasa that is committed to supporting local Tibetan businesses and fostering responsible and sustainable tourism. The team members are knowledgeable program directors, experienced English speaking tour guides and trained cooks and drivers.