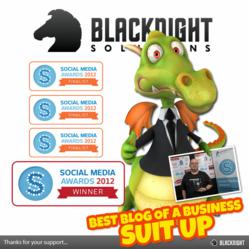 We hope that what we do inspires other businesses to loosen up a bit and have fun with their customers and what they are doing
Carlow, Ireland (PRWEB) May 18, 2012
Ireland's number one domain registrar and hosting company also have the best business blog in Ireland.
Blacknight (http://www.blacknight.com) took home the award for Best Business Blog at last night's second annual Irish Social Media Awards (http://www.socialmediaawards.com) ceremony. This is Blacknight's second win, having received the award for Best Business Twitter Account for Sales and Marketing at the inaugural Irish Social Media Awards in 2011.
The Irish Social Media Awards honour businesses in Ireland that raise the bar for Social Media use. Longtime champions of the medium, Blacknight are always looking for a way to set that bar higher.
Michele Neylon of Blacknight states: "We are proud to be the recipients of the Best Business Blog award because our blog is the most important component of our social media campaign. It allows us to have a conversation with our customers about a variety of things that would be helpful to them, from new services to Internet security issues."
At a time when businesses are catching a lot of heat due to improper use of social media, abandoned twitter accounts and obtuse Facebook accounts, Blacknight is one of the few companies getting it absolutely right. Neylon attributes this to the company's unrelenting efforts to be themselves.
"We hope that what we do inspires other businesses to loosen up a bit and have fun with their customers and what they are doing," Neylon continues. "So many companies believe that the only way to conduct themselves professionally is to project a traditional business image. We are showing that we can be professional, excel at what we do and that a successful company can look a lot like us."
The Blacknight blog focuses on domains, hosting, new Internet technology, Internet security issues, and Blacknight news. Visit Blacknight's award winning blog at http://blog.blacknight.com
About Blacknight:
Blacknight are an Irish based, ICANN accredited domain registrar and hosting company. Recipients of several awards for their revolutionary use of social media, Blacknight are one of Europe's most cutting edge Internet companies. Blacknight constantly seek to lead the way by introducing innovative solutions for its client base and provide dedicated servers and colocation as well as a comprehensive range of Microsoft Windows and Linux based hosting plans and domain name registration services to business globally."