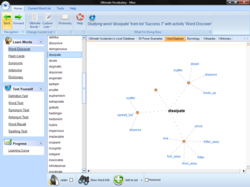 At the end of the day, we want everyone to be able to use words to their own advantage.
New York, NY (PRWEB) May 19, 2012
Having already helped thousands of people to improve their vocabulary and excel in all areas of life, the team behind Ultimate Vocabulary™ today announces their latest update.
Ultimate Vocabulary™ 2012 was released with one goal – helping those using it to be successful in life by building a strong and deep knowledge of words and their meanings.
Marc Slater, Managing Director of the company behind Ultimate Vocabulary™ 2012, explains more about what users can expect.
"This heavily updated version of our popular vocabulary software places a bigger focus on the daily application of what users are learning," Slater explains.
He continues, "We have introduced a more solid structure the software's seven vocabulary mastery strategies, with a wider range of examples, tasks and tests."
The seven strategies form the backbone of Ultimate Vocabulary™ 2012's operation. These strategies include features such as over fifty usage examples for each vocabulary rule, the ability to translate words into virtually any language and the ability to create custom lists of words and phrases close to the heart of each user.
"At the end of the day, we want everyone to be able to use words to their own advantage. To achieve this goal it is vital that all of the information required to master vocabulary is contained in one place. That is exactly what we have worked hard to achieve with Ultimate Vocabulary™ 2012," Slater adds.
The software is already being used within thousands of different applications across the South Pacific, Europe and North America. Usage spans a huge range of ages from small children right through to professional adults and seniors looking to keep their minds active.
The latest upgrade will be available to all existing users free of charge, with all new customers receiving Ultimate Vocabulary™ 2012 as standard.
For more information on the features and benefits of Ultimate Vocabulary™ 2012, please visit: http://www.ultimatevocabulary.com
******
About Ultimate Vocabulary™
Ultimate Vocabulary provides a proven and powerful platform, built to improve anyone's vocabulary.
The interactive self-improvement system provides more learning tools than any other program on the market, as well as more information on words.
The Ultimate Vocabulary software provides each and every user with a personal computer tutor. Providing a step-by-step guide to learning a powerful vocabulary, Ultimate Vocabulary is the learning tool everyone can benefit from.
Of course, the software is also backed by eReflect's iron-clad money back guarantee.