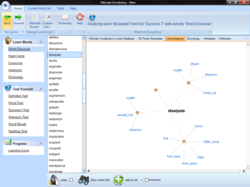 We consulted heavily with over thirty respected and published vocabulary experts.
New York City, NY (PRWEB) May 23, 2012
Adding to its expansive range of features to help anyone expand their vocabulary, Ultimate Vocabulary™ today announces its exciting new Ultimate Words™ feature.
The patented new feature consists of a bank of over 140,000 authoritative words, organized into almost 200 lists which were specially designed for the myriad of needs each user calls for.
Ultimate Words™ makes up some of the most powerful and influential words in the English language, made available with the aim of helping users increase their success in all areas of life.
Marc Slater, Managing Director of the company that created Ultimate Vocabulary™, explains how the new feature was developed.
"As part of our latest upgrade, we wanted to include a something that would stand out in the market as a leading vocabulary development tool; helping each of our users expand the range of words they use across all areas of their life" he explains.
Continuing, "So, we consulted heavily with over thirty respected and published vocabulary experts. The result is Ultimate Words ™ - quite possibly the most advanced vocabulary tool currently available."
The new feature will come as a standard inclusion with all new copies of Ultimate Vocabulary™ purchased via the software package's website.
Existing users of the system will be able to upgrade to the 2012 version of the software for free, bringing the power of Ultimate Words™ to their desktop at no extra cost.
"Any updates we make to our software become automatically free to existing users. This makes the package a great future investment for anyone looking to become more meaningful, powerful and influential with the words that they use" Slater concludes.
For more information on Ultimate Worlds, as well as all of the new features available with Ultimate Vocabulary™ 2012, please visit: http://www.ultimatevocabulary.com
******
About Ultimate Vocabulary™
Ultimate Vocabulary provides a proven and powerful platform, built to improve anyone's vocabulary.
The interactive self-improvement system provides more learning tools than any other program on the market, as well as more information on words.
The Ultimate Vocabulary software provides each and every user with a personal computer tutor. Providing a step-by-step guide to learning a powerful vocabulary, Ultimate Vocabulary is the learning tool everyone can benefit from.
Of course, the software is also backed by eReflect's iron-clad money back guarantee.