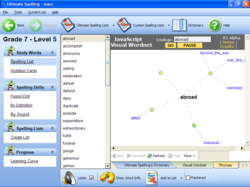 We believe we have developed a world-class spelling improvement tool.
New York City, NY (PRWEB) May 24, 2012
Wanting to demonstrate to parents and teachers around the world that improving a child's spelling doesn't have to involve writing out long lists or enduring boring tests, the creators of Ultimate Spelling™ today share three of their top tips.
"We believe we have developed a world-class spelling improvement tool" says Marc Slater, Managing Director of the company behind the Ultimate Spelling™ software.
He continues, "So, with this in mind, we felt it would be useful to people everywhere if we shared three of our top tips for turning any reluctant child into a keen-spirited spelling whiz."

Supplement learning with interactive tools:
Traditional spelling improvement methods lack engagement and motivation in today's modern world of embraced technology. Slater and his team therefore suggest allowing children to indulge in tools which promote interactive learning. These can include playing exciting word games, taking learning outside and into the real world or helping a child work through a spelling improvement software package.
Keep track of what is working and what is not.
Slater and his team feel that it is important to keep two lists – one containing all of the words that a child has mastered and another to focus on problem areas which would benefit from further time and focus.
Use modern spelling software
Having spent many years developing their own Ultimate Spelling platform™, the development team can vouch for the benefits of software-based learning. Aside from being able to combine the two suggestions listed above, packages such as Ultimate Spelling™ benefit from development based on scientific research, principles and patterns.
For more information on the Ultimate Spelling™ software, please visit:
http://www.ultimatespelling.com
About Ultimate Spelling™.
Ultimate Spelling provides a modern and easy to use spelling software that has been designed with one goal in mind – making children WANT to learn.
It is a fast and easy way to master even the most complicated spelling, without the need to write long lists or complete boring tests.
In fact, Ultimate Spelling provides more than just spelling help. It is a complete educational resource that boosts all level of a child's literacy.
Containing a personal computer tutor, Ultimate Spelling is the most realistic step-by-step guide to flawless spelling ability.