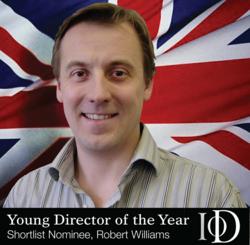 (PRWEB UK) 18 May 2012
Leicester based, multichannel e-commerce and software development company Williams Commerce today announced Managing Director, Robert Williams's nomination for the Young Director of the Year Award.
The Institute Of Directors (IoD) is Europe's largest membership organisation for business leaders. The Young Director of the Year Award is a prestigious award that brings many benefits. Winners receive a membership to the Institute Of Directors along with access to the many venues and work spaces that are available exclusively to members. The training available from the organisation increases the quality of directors and ensures they continue to benefit the business world and economy.
Robert Williams was shortlisted by the IoD to for the East Midlands Young Director of the Year award having demonstrated exceptional vision, leadership, innovation, originality and a sound understanding of market sector and client requirements.
Since Robert Williams established Williams Commerce in 2012, he has grown the business significantly, offering a wide range services from digital marketing to Software Development.
Further supporting the IoD's nomination of Robert Williams, Williams Commerce Ltd has provided web development service for retail giant MBL Group and leading cash and carry wholesaler in the UK, Kingfisher Bonnington Plastics Ltd.
Robert Williams responded to the IoD's nomination for the Young Director of the Year Award as saying, "It's a great honour to be nominated by the IoD for this award, having put a lot of effort into Williams Commerce over the last two years, it's very rewarding to have formal recognition from an institution such as the IoD."
In addition to the IoD's good news, today Robert Williams celebrates his 35th birthday. The Williams Commerce ltd team has published birthday wishes on the company blog this morning, marking the occasion with goodwill gestures.
Williams Commerce Ltd was incorporated in 2010 by Robert Williams, offering ecommerce, software, SEO services, IT and digital marketing services to both b2b and retail sectors of all sizes.