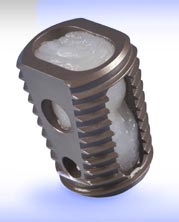 Providence, RI (PRWEB) May 18, 2012
d'Oliveira & Associates is working with some of the leading attorneys in the United States and Canada who are representing clients who have been injured by the Medtronic InFUSE Bone Graft back implant.
Medtronic InFUSE Bone Graft Lawyer
The InFUSE Bone Graft was approved by the Food and Drug Administration (FDA) in 2002 for use in lumbar back surgeries. It was designed to allow the patient to regrow their own bone to fuse vertebra in the lower back instead of harvesting bone from elsewhere in the body. It has been used off label in cervical vertebrae and caused dysphagia (difficulty swallowing) and difficulty breathing and speaking.
Additional injuries associated with the use of the InFUSE Bone Graft include cancer, including skin, thyroid, pancreatic, stomach, lymphoma, lung, leukemia, laryngeal, breast and prostate cancers. Use of the InFUSE Bone Graft has also been linked to sterility in males and other sexual side effects. Uncontrolled bone growth has been linked to the use of the InFUSE Bone Graft, and has been reported in as many as 75% of the patients receiving the implant.
Attribution: North American Spine Society
Medtronic has come under Congressional investigation because of allegations that doctors conducting medical trials on InFUSE were being paid by Medtronic. The FDA issued a warning of adverse risks to health from use of the InFUSE Bone Graft in the cervical spine near the esophagus and trachea.
d'Oliveira & Associates, P.C. has recently begun a television ad campaign alerting individuals about these serious and life-threatening complications. Many individuals with these complications may need surgery to remove or repair the malfunctioning implant, or treat excessive bone growth, cancer, and any other side effects. The attorneys working with d'Oliveira & Associates are representing these individuals in their claims against the manufacturers of the defective and misused product.
For more information about claims against the manufacturers of the InFUSE Bone Graft and the awareness campaign about the defective product and its off-label use, please call the law offices of d'Oliveira & Associates, P.C. toll-free at 1-800-992-6878 or visit InFUSE Bone Graft Lawyer