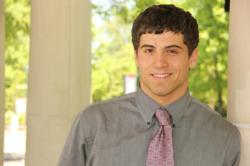 My grandmother was a victim of 9/11. The families that we support exhibit strength through their adversity. It's inspiring.
Princeton, NJ (PRWEB) May 19, 2012
On Saturday, May 5th, Hun School junior Christopher Cardinali '13 was awarded the Dwight D. Eisenhower Leadership Award at the United States Military Academy at West Point. Nominated by the faculty of The Hun School of Princeton, Chris was honored for his demonstration of exceptional performance and potential in the areas of academics, athletics, and community service as well as his leadership ability. Chris was one of 125 students from New Jersey, Pennsylvania, and New York to be recognized.
As a student at The Hun School, Chris has earned high honors every semester since he first entered the School. He is currently running for the post of Student Government Vice President and will be a four-year member of the School's varsity football team, where he hopes to make an impact as a player and a leader.
In the community, Chris volunteers with the Pop Warner football team in Monroe Township, New Jersey coaching seventh and eighth grade students. He also volunteers with the non-profit organizations Tuesday's Children and Voices of September 11th, working with the families of the victims of September 11th – a cause very dear to him.
"My grandmother was a victim of 9/11. The families that we support exhibit strength through their adversity. It's inspiring," said Chris.
He hopes that his volunteerism imparts inspiration to others. "Football provides life lessons, and has helped me to develop as a man," Chris said. "The work I do with Pop Warner and at Tuesday's Children and Voices is a way to give back."
"Chris epitomizes the type of student that this award honors, blending together high achievement in academics, athletics, and leadership. He sets an example for everyone around him, and I endorsed his selection unhesitatingly," said Mr. O'Brien.
Following the acceptance of the Eisenhower Award, Chris was offered a tour of the Military Academy. "Being at West Point, you are struck by the character and history of the Academy. It makes you proud to be an American, knowing that the cadets are being groomed for leadership – that through their own discipline and character they will be called upon to lead other men. I try to hold myself to similar values of scholarship and service."
The Hun School of Princeton is a co-educational, independent college preparatory school in which student-centered learning is encouraged within the context of traditional curriculum, preparing its students for the global community in which they will live and work. Individual attention and strong student-faculty relationships are the hallmarks of the School. The Hun School is comprised of 610 students in its Middle School, Upper School, and Postgraduate Program. The boarding community is home to 152 students from twenty-one countries and fifteen states. For more information, please visit our website at http://www.hunschool.org.