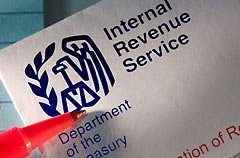 We stand up to the IRS for you and help get them off your back.
South Florida (PRWEB) May 21, 2012
The popular national accountant firm, FrankGuttaCPA.com, has announced a new offer for people who have received a letter from the IRS about an audit or problems with taxes. U.S. residents can call and speak to an experienced CPA with over 25 years experience to discuss the details.
The IRS sends out letters to inform people they are facing audits, are facing penalties, seizures or worse. The threatening letters, according to the site, can often lead to hasty decisions that are not in the best interest of the recipient.
"When the letter arrives, it can be incredibly intimidating, we want to let people know they have someone on their side," said Frank Gutta, founder. "We stand up to the IRS for you and help get them off your back."
The IRS problems, they can help with include:

Stop wage garnishment
Prevent bank account levies
File back tax returns
Settle IRS debt
Make payment arrangements
Handle IRS offers in compromise
National visitors can schedule to speak with an accountant after providing the brief details about their situation and the name and number they can be contacted. Additionally, people can call the number direct to get their free no obligation consultation.
Contact:
Frank Gutta, Certified Public Accountant
(954) 452-8813
http://www.frankguttacpa.com