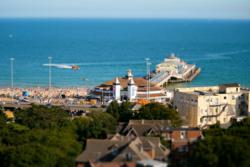 Bournemouth is much more than a popular tourist resort, it's also a hive of entrepreneurial activity
UK (PRWEB UK) 19 May 2012
Bournemouth: Using the Register of Companies from Companies House, formations experts Duport.co.uk have found that Bournemouth has experienced its best ever April for company formations, with a 27% increase on its previous April record of 104, set in 2007.
Duport.co.uk's Managing Director, Peter Valaitis stated: "Bournemouth's new businesses have not merely broken a record set during an economic boom, they've shattered that record in the second slump of a double-dip recession."
"It just goes to show that Bournemouth is much more than a popular tourist resort, it's also a hive of entrepreneurial activity," he added.
Bournemouth has recently received several Quality Coast Awards for the cleanliness, beauty and facilities of its beaches, and has also been awarded the Blue Flag for Alum Chine, Durley Chine, Fisherman's Walk and Southbourne Beach.
With tourism one of the town's major industries, these awards for Bournemouth's beaches are hoped to bring in extra visitors during what should be a huge year for British tourism.
With more visitors hoped to take advantage of Bournemouth's award winning beaches and natural beauty, there's little wonder that people in the area are feeling optimistic about starting new companies.
With news that plans for the large West Central development are likely to be blocked by the local council, who wish to build a bus station on the proposed site, Bournemouth is certainly in need of new businesses to help the town through the double dip recession.
With a new record for start-up business in April 2012, Bournemouth is a town that is optimistic about the year ahead for its local businesses.
Duport.co.uk is a leading UK company formation agent, operating in the UK for around 15 years. Duport registers around 10,000 new companies each year using its Companies House approved software. The Company Register which is maintained by Companies House contains public information about Limited companies and directors.