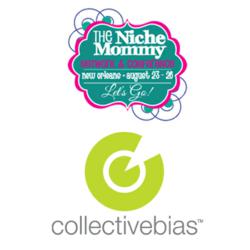 We're excited to partner with The Niche Mommy Network to offer this continuing education opportunity for attendees to grow their skills and stay up-to-date with relevant technologies and trends.
Bentonville, Ark. (PRWEB) May 22, 2012
Collective Bias, a leading social shopper media company, is proud to announce a media partnership with the Niche Mommy Conference, a Niche Mommy Network & Conference for social media moms from diverse and multicultural backgrounds. The inaugural Niche Mommy Conference will take place August 23-26, 2012, in New Orleans, featuring a workshop-style agenda providing bloggers with hands-on continuing education opportunities.
"Moms that blog are an influential and continuously growing niche and the Niche Mommy Conference provides marketers a unique opportunity to reach these moms and tap into the multicultural market," said Nadia Jones, Founder of The Niche Mommy Network and Conference. "Collective Bias's objectives are in line with that of the Niche Mommy Network & Conference making this collaboration a natural fit. I am thrilled about partnering with them."
Both organizations' core mission is to support the growth and diversity of online content creators. The Conference will offer bloggers of diverse backgrounds an opportunity to attend workshops that are catered to the blogger profession.
Collective Bias has been developing a continuing education program called Social Fabric® University (SFU) that offers skills and product educational opportunities to its Social Fabric community of 1,700 members. Courses are free of charge and available exclusively to the Social Fabric community online. To officially launch SFU at Niche Mommy, Collective Bias will conduct SFU-style workshops and provide attendees with information on other SFU offerings.
"SFU's goal is to provide our community with opportunities to continue building on their skill set as a professional content creator," said Stewart Cox, Director of Social Fabric University. "We're excited to partner with The Niche Mommy Network to offer this continuing education opportunity for attendees to grow their skills and stay up-to-date with relevant technologies and trends."
The Niche Mommy Conference will take place at the Roosevelt Hotel New Orleans, a Waldorf-Astoria collection. Workshops will include everything from enhancing photography skills, to understanding copyright and trademark rules for bloggers. Sessions will address best practices for working with brands, how moms have and can influence the 2012 election, and the pursuit to achieve work-life balance.
Speakers include Lindsey Ferrier of CafeMom and Suburban Turmoil, Dr. Daisy Sutherland of Dr. Mommy Online and Ana Flores of Spanglish Baby and Latina Bloggers Connect. In addition to workshops and sessions, the agenda will include opportunities for attendees to experience New Orleans, network with other bloggers and engage with the brands that are present. With its eclectic and diverse history and culture, New Orleans serves as the right backdrop for the inaugural conference.
About Collective Bias
Collective Bias™ drives retail sales through the coordinated creation of social media stories. Its Social Fabric® influencers connect with the brands and retailers they use in their daily lives to drive conversations on a wide variety of social media platforms. Their stories build consumer engagement and brand loyalty, ultimately leading to sales conversion. Social Fabric University is an online program for the Social Fabric community that offers continuing education opportunities. For more information, visit http://www.collectivebias.com
About The Niche Mommy Network
The Niche Mommy Network & Conference is the community and annual conference for the diverse and multicultural social media mom. Network members include moms and even non-moms with diverse perspectives, voices and backgrounds, who contribute to diversity in different ways. The Niche Mommy Network & Conference launched in 2012 by founder, Nadia Jones, blogger at JusticeJonesie.com, an attorney and mom to three children. Born in Mexico City, Mexico to a Mexican mother and Haitian father, Nadia's cross cultural background makes her passionate about celebrating diversity. To learn more about Niche Mommy visit http://www.thenichemommy.com or connect with The Niche Mommy on Twitter, @nichemommy. For sponsorship or speaking opportunities, please contact Nadia Jones at njones (at) thenichemommy (dot) com.