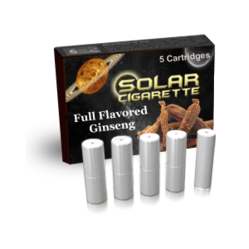 Get access to your own personal smoking buddy to help you stay committed and offer the VIP service you deserve while making the switch to a better lifestyle.
Hollywood, FL (PRWEB) May 20, 2012
Smoking tobacco cigarettes is one of the most difficult and life threatening habits to break, which is also no secret as well, but now smokers have a chance to still feel as if they are smoking but without all of the deadly chemicals that come with smoking tobacco cigarettes.
The Solar Cigarette electronic cigarette is a smokeless and odorless cigarette that has been helping many smokers fight their nicotine cravings but also give them a unique and much safer smoking experience. Now SolarCigarette.com has unveiled their new line of vitamin packs to give smokers another added bonus.
SolarCigarette.com has now released it's Ginseng flavored vitamin packs that will provide smokers with more benefits than any other electronic cigarette on the market today.
A representative of SolarCigarette.com states "Our Solar Cigarette Ginseng pack is one of the most beneficial flavors. It is also used to reduce the effects of stress, improve performance, boost energy levels, enhance memory, and stimulate the immune system. Oriental medicine has deemed it a necessary element in all their prescriptions, and regard it as prevention and a cure. It is said to remove both mental and bodily fatigue, treat pulmonary problems, dissolve tumors and reduce the effects of age."
The Solar Cigarette electronic cigarette also comes in a wide variety of other flavors that come with our without nicotine which is great for smokers who want to feel as if they are smoking but don't want the dose of nicotine. When it comes to a better smoking experience, SolarCigarette.com is truly one step ahead of the competition.
Learn more about Solar Cigarette Ginseng Vitamin Packs