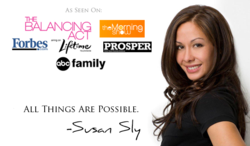 Toronto, Ontario (PRWEB) May 20, 2012
Susan Sly, author, acclaimed speaker, entrepreneur, and founder of the 'Have It All Womens' Weekend, has made a generous donation to Sister Writes in an effort to keep the creative writing program going.
Sister Writes helps give a voice to women marginalized by a variety of factors, including homelessness, poverty, domestic abuse, limited educational opportunities and mental health issues. Through the generous support of a number of sponsors, such as Susan Sly, and with the assistance of guest writers, the program provides weekly writing workshops for women to develop their creative potential, hone literacy skills and build self-esteem.
The program was founded in January 2010 by writer Lauren Kirshner with the support of Sistering, a drop-in center empowering women since 1976.
"The workshops encourage the participants to develop their own voices without necessarily fulfilling genre expectations," says Jessica Stevenson of Liberty Gleaners. "These meetings are important for providing more tailored mentoring in a group where there's a variety of skill levels."
During the twelve weeks of workshops, participants are introduced to writing poetry, fiction, non-fiction, and memoir. The content is geared toward building skills for reading work aloud and participating in critique. The aim is to allow the development of a personal voice along with critical discussion.
About Susan Sly: Susan Sly is a successful entrepreneur, author, speaker and personal empowerment trainer. Susan believes that we all have greatness within us and are truly capable of creating more in our lives. She has worked with audiences in the United States, Canada, Australia and Hong Kong. She specializes in working with women to assist them in creating lives of fulfillment. For more information about Susan Sly, please visit her website http://SusanSly.com.