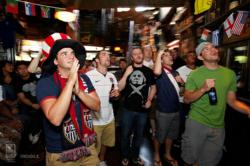 Annapolis, MD (PRWEB) May 22, 2012
Since 2007, Fadó Irish Pub has established itself as the premier venue for ex-pats, Internationals and American soccer fans alike to gather and watch the beautiful game. And June 8 marks the start of EURO 2012 when soccer fans at Fadó Irish Pub & Restaurant at one Park Place in Annapolis will create an unrivaled atmosphere benefitting one of the biggest tournaments in the world. EURO (UEFA European Football Championship) takes place every four years and since 1960 has remained one of the most prestigious soccer tournaments in the world, second only to the World Cup. For the first time since 1988, Republic of Ireland has secured a spot in the famed soccer tournament. And Fadó is poised to celebrate big from June 8 until the Final on July 1.
Here's what real fans need to know:
· Fadó will show all EURO 2012 programming. All 32 matches live, on multiple HDTVs, with sound on. Replays available daily.
· Because there are only 16 teams (as opposed to the 64 teams in the World Cup), jersey clad customers will be hanging from the proverbial rafters early on in the tournament as top teams are pitted against each other from the early rounds. The games will kick off in the afternoon but the party always lasts well into the evening.
· Throughout the tournament, Fadó will treat fans to a special Tournament menu for lunch under $13 that includes a pint of Guinness, Stella Artois or Newcastle.
· Fans can play along in our EURO 2012 online Fantasy game for free and compete for pub cash & great EURO 2012 gear. Fans can also start their own private competition with friends!
· Fado will once again sell special EURO 2012 tees; including Ireland, Spain, England, Germany and Holland. Wear your colors. Support your team properly.
· No other soccer bar spends more on broadcast fees or opens earlier to show International soccer than Fadó. Fans crowd into the pub over 100 days every year, to watch exclusive International soccer feeds from numerous countries (Ireland, England, Spain, Italy, Scotland, South America, Germany).
· Fadó serves more European draught beer and Guinness than any other bar, restaurant or pub in Atlanta. A real fan watching the beautiful game needs the perfect Pint.
· Fadó Irish Pub & Restaurant in Annapolis is an Official Soccer Bar of US Soccer. Fadó Seattle was voted 'Best Soccer Bar in the U.S.' by fans at USSoccer.com and named "1 of 6 Best Soccercentric Bars in America" by GQ Magazine.
· Fado has sponsored numerous local soccer clubs and soccer supporters clubs since we opened 15 years ago because we love the beautiful game.
Media Opportunities:
In May, Fadó will be crowded with enthusiastic soccer fans supporting their teams and watching the title race in the English Premier League, the FA Cup Final and the most prestigious inter-league soccer match of the year, the Champions League Final (the global Super Bowl of Soccer) on May 19.
About Fadó Irish Pub & Restaurant
Fadó Irish Pub & Restaurant, located at One Park Place in Annapolis, is a favorite of International, US, and MLS soccer fans. Fadó is a proud member of the Official US Soccer Bar program and is the city's go-to spot for English Premier League, USA Men's, Champions League, Scottish Premier League, World Cup and much more.
For more information, go to: http://www.fadoirishpub.com/annapolis/euro-2012-soccer
Media Contact:
Greg Algie, regional manager
410-626-0069 or galgie(at)fadoirishpub(dot)com
# # #