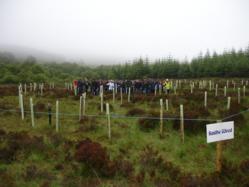 "Land ownership.....for around the same price as a bottle of whisky"
(PRWEB) May 20, 2012
Highland Titles will plant 60 acres of Scottish broadleaf trees in the Scottish Highlands this year, and everyone has the chance to help. Through their intriguing business model, Highland Titles makes land ownership accessible to thousands of people for around the same price as a bottle of whisky. They recently announced their flagship conservation effort of planting 60 acres of broadleaf trees to celebrate 60 years of Queen Elizabeth II.
Statistics indicate that due to the destruction of native forests (that covered most of Scotland) over the last thousand years, only 1% of the native woodland cover is all that remains in Scotland today. With eco conservation and 'go green' being high priority initiatives across the globe, the company Highland Titles is doing their bit for the planet in a unique and innovative way. They are dedicated to building a thriving social network of landowners by selling small plots of land in the Scottish Highlands to prevent development. By acquiring this land and selling it in small plots to tens of thousands of people, the company ensures that it can never be purchased by developers and transformed into another housing estate.
Highland Titles focuses on rescuing woodlands, tree planting and the maintenance, improvement and acquisition of land. Their conservation project has gathered momentum over the years and they now manage approximately 750 acres of land, including a nature reserve and an eagle sanctuary. Every year, with the help of volunteers, the company plants thousands of native Scottish broadleaves in the area surrounding the plots for sale.
The company sell plots of various size, from as little as one square foot to half an acre, and ownership of land in Scotland also brings other benefits. When you buy land from Highland Titles, you can make the legitimate claim of being a Laird, Lord or Lady. 'Laird' is a Scots word, simply meaning landowner, whereas the title of 'Lord' is the English translation, and 'Lady' of course is the female equivalent. Although this is clearly a bit of fun and a terrific gift, Highland Titles comply fully with Scottish law for the transfer of land and provide a personalised document pack that comes with a legal Certificate of Sale, a Master Title Deed to comply with the legalities of changing the buyer's title on their Driving License and credit cards. In addition, important information along with directions to locate and visit the purchased land is also made available.
A representative of the company says, "We see it as imperative that we conserve the biodiversity in the forests that remain, that we replace some of the trees that have been lost only for the sake of wildlife habitat, carbon sequestration, and the enjoyment of future generations." Highland Titles has gained thousands of supporters around the world, including some notable celebrities. They endeavour to protect ancient, semi-natural woodlands, and open-ground habitats. Highland Titles upgrades non-native conifer plantations to new native broadleaf plantings and protects these conserved lands from the onslaught of development.
Become a Lord, Lady or Laird of your very own Scottish estate from just £29.99 ($49.99) by purchasing your own highland estate from Highland Titles. Visit http://www.highlandtitles.com/ to buy some land or http://www.facebook.com/scottishhighlandtitles to join their growing online community.