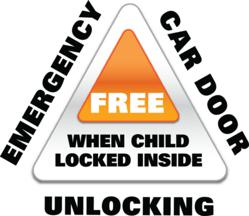 "When we get an EDU call, it becomes our top priority."
Dallas, TX (PRWEB) May 18, 2012
"When outside temperatures are in the 90's or triple digits, we don't have to convince anyone about the dangers of children locked in vehicles", says Debbie Vice, owner of Pop-A-Lock of North Texas. "What many people many not realize is that on a day when the outside temp is just 85 degrees, the heat inside a closed vehicle can reach 104 degrees in 10 minutes and nearly 120 degrees in half an hour, and that can be disastrous."
Unfortunately, Texas leads the nation over the past decade in number of deaths from children left in hot vehicles, at 71. Other southern states, including Florida and southern California, also have high numbers. Since 1998, the National Highway Traffic Safety Administration, estimates over 500 children have died after being left behind or trapped in cars, including more than 50 in 2011. There were three such deaths from hyperthermia in the DFW metro area last year.
Pop-A-Lock North Texas, operating in Dallas, Tarrant and Collin Counties has rescued 99 children from hot cars since 2010. Debbie estimates her company has received at least twice that number of calls for Emergency Door Unlocks, or EDU's.
"When we get an EDU call, it becomes our top priority," she said. "We always insist that parents call 911 in addition to Pop-A-Lock. If our technicians are more than a few minutes away, we don't want them waiting on us. Just get that child out. Our concern is the safety and health of the child - it's not about being a hero or gaining something for ourselves."
In fact, Pop-A-Lock's EDU program is a free public service and nationwide the company has rescued over 300,000 children since the program began in 1991. Debbie says that the reward is having the child out of the car and back into the hands of the family - "Our technicians open cars all day long, but the most rewarding jobs are the ones we don't get paid for."
She emphasizes that parents of kids trapped in vehicles aren't bad parents, and most don't imagine it would ever happen to them. "It's a fast-paced and sometimes stressful world. We get in a hurry and over-burdened and unfortunate things can happen." Planning ahead or leaving "memory triggers" might help avoid a scary or even a tragic experience.
When a vehicle is parked in the garage or driveway where young children might be playing, make sure it is locked and the keys are secured out of reach of children. Kids can become trapped in cars even when they've put themselves in the situation.
"Memory triggers" are like tying a ribbon on your finger to remind you of something. The Kids and Cars Organization recommends some simple steps:

Put something in the back seat of your vehicle that you need requiring you to open the back door every time you park (cell phone, employee badge, purse, etc.)
Every child should be correctly restrained in the back seat. Take the time to check the seat, the harness and the child before driving. This routine will help you not only transport safely but also is another reminder that the child is back there.
Keep a stuffed animal in your child's car seat. Place in the front seat next to you when you are transporting a child - it will serve as a reminder that your child is with you.
Ask your child care provider or school to call you if your child hasn't arrived in time.
Make it a habit to open the back door of your car every time you park, just to make sure you've left nothing - and no one - behind.
Never - NEVER intentionally leave a child in the car while you "run inside" for a minute.
As a passerby, if you notice a child alone in a vehicle, regardless of the temperature outside, notify authorities by calling 911. Your actions could save the life of a child - even when the temperature outside is comfortable.
"Getting the word out about children in cars is always important," Debbie concludes. "What we're emphasizing here is that these concerns are just as valid in spring and fall-type temperatures as they are in the middle of summer."
Pop-A-Lock North Texas
Debbie & Ron Vice, Owners
(972) 540-5777