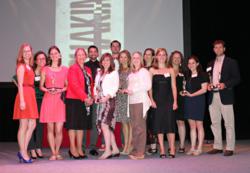 "We are truly honored to be recognized by the Central Virginia AMA for our work to promote the benefits of life in Charlottesville." - Jonathan Kauffmann, Nest Realty
Charlottesville, Virginia (PRWEB) May 18, 2012
Nest Realty, a full-service, boutique real estate brokerage firm specializing in residential and luxury properties throughout Charlottesville and Central Virginia, today announced it took top honors at the 2012 American Marketing Association EMMA Awards. "The Live Where You Love Campaign" takes a new approach to real estate marketing, focusing not on individual properties but instead on the unique attributes of life in Central Virginia.
Key Highlights:
*2012 Central Virginia AMA EMMA award for Excellence in Digital Marketing: "Live Where You Love" video series
*2012 Central Virginia AMA EMMA award for Overall Marketing Excellence: "Live Where You Love" campaign
Supporting Quotes:
Jonathan Kauffman, Principal Broker, Nest Realty Group
"We are truly honored to be recognized by the Central Virginia AMA for our work to promote the benefits of life in Charlottesville. Our broad team of Realtors are true experts in the Central Virginia real estate market, working to educate their clients both on the home purchase process and local real estate trends. Their passion for our great region was the inspiration behind the 'Live Where You Love' campaign."
Jackie Gannon, EMMA Awards Chair and Incoming President, Central Virginia AMA
"The annual EMMA Excellence in Marketing competition recognizes outstanding marketing among Central Virginia organizations, and we are pleased to award Nest Realty for its 'Live Where You Love' campaign. The company's integrated approach both showcases the expertise of its real estate team and captures the passion that Nest Realty has for life in Central Virginia."
Supporting Resources:
*View the "Live Where You Love" video series
*Read the Nest Realty Q1 2012 Market Report
*Read the Nest Report, a platform to educate the public about the changing real estate markets in Charlottesville, New River Valley, and Hampton Roads.
RSS Feeds: Subscribe for the latest Nest Realty news
Tags: Nest Realty, Central Virginia Real Estate, Virginia Real Estate, Charlottesville Real Estate
About Nest Realty
Founded in 2008, Nest Realty Group is a full-service, residential real estate brokerage specializing in residential and commercial properties throughout Charlottesville, Central Virginia, and Hampton Roads. Through a strong focus on technology, customer commitment, and the region's most innovative and focused marketing strategies, Nest Realty has established itself as a top choice for buyers and sellers of residential and commercial property.