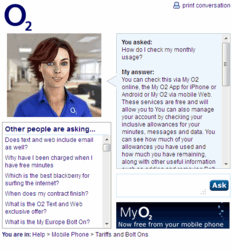 London, UK (PRWEB) May 22, 2012
On 3rd May 2012 Creative Virtual participated as a Sponsor at LivePerson Aspire EMEA 2012 held at Vinopolis in London. The conference is a unique event designed to highlight the most innovative and groundbreaking developments from LivePerson and their partners and customers. Around 200 delegates attended this customer summit to take advantage of the keynote speakers, small group sessions and demonstrations of new ways to connect and engage with customers.
Creative Virtual generated lots of interest at the event with their demonstration of the integration of their V-Person (Virtual Assistant) technology and LivePerson's Live Chat. They displayed the system currently being utilised by O2 UK. O2 first launched their V-Person, featuring animated avatar Lucy, in 2008 as an alternative and cost effective communication route for customer queries. By January 2010 Lucy had answered over one million questions on the O2 website. Both O2 and Creative Virtual saw even more potential to improve upon this implementation and, in 2011, collaborated with LivePerson to take O2's online customer support one step further.
Together O2 and Creative Virtual identified trigger phrases and questions that might require escalation to Live Chat. When a user's input matches one of these predetermined rules, Lucy offers the option of chatting with a customer service advisor. If the user chooses to do to this, handover to Live Chat is initiated, avatar Lucy exits the interface and a new male or female avatar enters depending on the gender of the live agent. The conversation can also be handed over to Live Chat with an O2 Guru when the user needs individualised assistance with their mobile technology.
By integrating the two systems in this way the Live Chat conversation is able to continue within the same virtual assistant template offering the user a seamless experience. The user also benefits from Lucy providing the live agent with a copy of the conversation, both questions asked and answers given, that has taken place prior to escalation to Live Chat.
The integration of Ask Lucy with Live Chat from LivePerson earned Creative Virtual the honour of being shortlisted for the Econsultancy Innovation Awards 2012 in the category of 'Innovation in Customer & User Experience' earlier this year. To learn more about Ask Lucy and to view a video demonstration of the Live Chat integration, please visit the O2 Customer Story.
Creative Virtual is excited by the opportunities their strategic partnership with LivePerson will create for new developments and implementations in the future. Integrations of V-Person technology with LivePerson's Live Chat give companies inventive methods of engaging with customers and providing a positive customer service experience. Creative Virtual will also be participating in Aspire APAC 2012 being held on 24th May 2012 at the Sydney Theatre in Walsh Bay, Sydney and Aspire 2012, which is taking place on 12th—14th June 2012 in SoHo, New York City. For more information about LivePerson's customer summits, please visit their events page.
About Creative Virtual Ltd:
Creative Virtual has over 11 years' experience working with virtual assistant natural language applications. In that time the company has built more than 100 solutions for brands including Lloyds Banking Group, HSBC, ASDA, O2, Virgin Media, Verizon and the RSPCA. Delivering accuracy of over 90%, and call deflection of up to 50%, V-Person is one of the most compelling self-service products in the world today; the V-Person technology streamlines the workflow of self-service information on the web, mobile and social media.