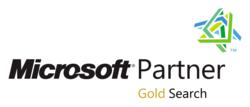 "Retaining these competencies showcases our expertise in and commitment to Microsoft's SharePoint and FAST search products," - Kamran Khan, President & CEO, Search Technologies
Herndon, VA (PRWEB) May 22, 2012
Search Technologies, the largest IT services company dedicated to search engine implementation, today announced it has retained Microsoft Gold competencies in both Search and Digital Marketing, demonstrating a "best-in-class" ability to meet customers' evolving needs and distinguishing itself within the top 1 percent of Microsoft's partner ecosystem.
"Retaining these competencies showcases our expertise in and commitment to Microsoft's SharePoint and FAST search products," said Kamran Khan, President and CEO of Search Technologies. "We've helped more than 100 blue-chip customers and Government agencies to optimally implement search solutions using Microsoft search products."
To earn a Microsoft Gold competency, partners must successfully complete certification exams, submit customer references that demonstrate successful projects, meet a revenue commitment, and pass a variety of capability assessments.
"We have delivered more than 30,000 consultant-days of services to customers using Microsoft search products during the last four years and we have the largest and most experienced team of FAST search engineers globally," Khan added.
Search Technologies' Microsoft Search Services range from experts-for-hire to fully managed search solutions.
About Search Technologies
Search Technologies is the world's largest independent provider of search engine expertise, consulting and implementation services. We help customers gain a competitive advantage through the smart use of leading search engines. No matter the extent of your search implementation challenges, we have the people, processes and technologies to deliver results.