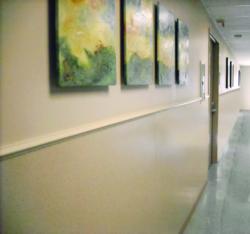 "We're very excited to be launching the newest development in wall protection and providing our customers with another choice of eco-friendly materials." -- Mark Alan, SVP of Product Management & Development, InPro Corporation
Washington, DC (PRWEB) May 18, 2012
InPro Corporation continues its pioneering approach to sustainability by introducing BioPrism™ Solid Surface wall protection, the latest addition to its EnviroGT™ line of environmentally responsible products. InPro announced the new wall cladding at the 2012 American Institute of Architects National Convention and Design Exposition.
BioPrism wall cladding is specifically designed to withstand the abuses of high-traffic environments. In addition to being easily repairable, BioPrism solid surface is non-porous and does not support the growth of mold, mildew or bacteria. InPro panel edges are finished to leave no conspicuous seams.
Manufactured using an industry leading bio-resin containing rapidly renewable content, BioPrism wall cladding is Class A fire rated, and holds GREENGUARD® certification for both Indoor Air Quality and Children and Schools, meaning BioPrism exceeds the stringent California Section 01350 standard.
BioPrism wall cladding comes in 1/4" thick sheets in sizes up to 48" x 144" and in multiple colors and particulates.
"With our introduction of BioPrism sold surface, InPro continues to meet the increasing demand for alternative bio-based products," said Mark Ala, senior vice president of product management and development for InPro. "We're very excited to be launching the newest development in wall protection and providing our customers with another choice of eco-friendly materials."