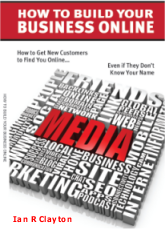 The insights in the videos tutorials and book help business owners see and experience the keys to marketing in the new media
Halifax, Nova Scotia Canada (PRWEB) May 21, 2012
Business Author Ian Clayton releases his previously private video tutorial series on Online Marketing and How to build a business online. Until now, only buyers of his recently released book, http://HowtoBuildYourBusinessonlineBook.com/, had access to the videos revealing strategies and secrets of developing an effective Internet marketing campaign.
"Although the videos were originally developed to help my book buyers, it seems a shame not to share these strategies with all business owners," explains Clayton, who has more than 30 years of experience in marketing and technology development. "The Internet is a powerful tool that any business can use to expand its outreach and brand recognition, but only with the right strategies. Our techniques help businesses grow despite these difficult economic times."
Now readily accessible online without cost to anyone who visits the website, the video tutorials (http://www.youtube.com/watch?v=5k-JjLGa6bA) guide business owners through the best approaches for building strong SEO and keyword strategies.
Although each video corresponds to a chapter in Clayton's book, the independent tutorials provide a more in-depth examination of real life successes, challenges and solutions. Some of the top-performing websites featured in the video include Google, National Geographic Travel & Cultures, Romantic-holiday-destinations.com and Adventure-Travel-Destinations.com.
Delivered in the same conversational tone as the straightforward book, the how-to videos break down the tasks involved to launch a successful Internet marketing campaigns. Viewers learn how to develop rich keywords and compelling content so their businesses become fixtures on the first page of search engine results.
"The insights contained in the videos tutorials and book help business owners see and experience the keys to marketing in the new media," explains Clayton, who founded AXSES Inc., a company specializing in innovative marketing and technology solutions for the travel industry. "With all media moving to the Internet, these techniques are vital to the future success of businesses. In the process of disclosing strategies that most SEO experts will not reveal, entrepreneurs will discover hidden gems that increase success."
After registering with an email address on the website http://HowtoBuildYourBusinessonlinebook.com, subscribers receive emails directing them to the free video tutorials. The first video is an example of content marketing for travel, following this the tutorial; "Keyword Strategies for Successful Search Rankings," offers a 16-minute strategy session for gaining exposure on Google. Clayton shows business owners how to study trends and competitors, how to develop strategies based on the three ways consumers search for information and how to assess the value of keywords using Google tools.
The next video tutorial, "On-Page SEO for Keywords," helps entrepreneurs evaluate and optimize their websites for search engines. The third video, "Articles, the New SEO & Viral Power Branding," reviews the concepts of content and video marketing.
Book buyers who register on the http://howtoBuildYourBusinessOnlineBook.com receive free membership in the online community. Members receive access to blogs, supplementary topic reviews and ongoing, dynamic discussions about innovative SEO strategies. Clayton also plans to release additional videos, webinars and a visitor forum in the coming months.
Published in December 2011, "How to Build Your Business Online" was nominated for consideration as Small Business Trends' best technology book of the year. The book offers concise, proactive strategies small business owners can implement to immediately generate more website traffic and increase brand recognition.
For more information on the Free Video Marketing Tutorials, visit http://howtobuildyourbusinessonlinebook.com/bonustutorials/
More about Ian R Clayton visit: http://howtobuildyourbusinessonlinebook.com/ian-r-clayton/