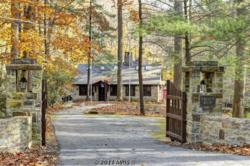 Washington, DC (PRWEB) May 18, 2012
As President Obama prepares to host the leaders of the world's largest economies for the annual G-8 summit, the international media is turning attention to a small community in Maryland with a population of 6,000 – Thurmont. Described by The Washington Post as "a quiet little town where everyone knows your name," Thurmont has been the official presidential retreat since 1942.
TTR Sotheby's International Realty of Washington DC is currently offering the historic "Trout Run" property in Thurmont, Maryland. The 453-acre parcel is available for sale at $8.95 million.
Only one hour from Washington, DC, convenient to routes 270 and 70, and just a short drive from Camp David in Maryland's Catoctin Mountains, Trout Run is a rustic hideaway where U.S. presidents fished, conferred with advisers and entertained stars of stage and screen.
Trout Run has been a well-kept secret since Herbert Hoover first visited for a fishing expedition in 1929, his first year in office. The property of a prominent Washington family for the last 60 years, this storied estate features five furnished residences, including the three-bedroom main lodge, decorated in a rustic camp style with timber furniture used by Presidents Hoover and Roosevelt and big-game mounts, including the head of a moose reportedly shot by Hoover in Alaska
In addition to its private two-mile trout stream, the property is surrounded by wooded trails, and has access to wild turkey, deer and grouse hunting. It also features a large swimming pool, shuffleboard, and tennis and basketball courts.
The listing broker for the property, David DeSantis, said of Trout Run, "this unique offering presents not only an opportunity to purchase a magnificent country retreat just an hour from Washington, DC but to own a significant piece of 20th century American history."
TTR Sotheby's International Realty was recently recognized by Real Trends as one of the top 150 brokerage firms in the United States.
The Sotheby's International Realty network currently has more than 11,000 sales associates located in over 500 offices in the United States and 40 other countries and territories. TTR Sotheby's International Realty has been the exclusive affiliate for the Washington, DC metropolitan area since 2006. The 23 year-old firm currently has 160 agents with offices in Georgetown, Downtown DC, McLean and Chevy Chase. For more information, visit http://www.ttrsir.com.